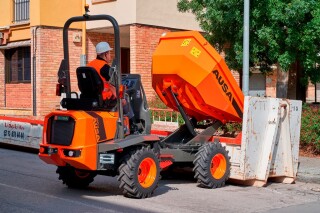 The new D201AHG is Ausa's first articulated dumper with this payload, placing it between the 1.5-tonne D150AHG and the 3-tonne D301AHG.
Thanks to the design of the swivel skip, it can transport more than 1,300 litters of material, making it the dumper with the highest capacity in its class, according to the manufacturer.
The D201AHG is designed for streetworks, as being just 1.5 metres wide it needs only little room for manoeuvring.
To minimise maintenance downtime, it has a backward folding cab offering access to any component, including the 18.5kW Kubota engine that has the power to enable the D201AHG to negotiate slopes of up to 50% (if you have to).

In terms of safety, the AUSA D201AHG is equipped with various features that improve the operator's peace of mind and the safety of their surroundings:
Safety features include an electronic brake that is automatically engaged when the engine is switched off.
The new model was launched at the Matexpo trade fair in Belgium last week, where according to Mario Torres, Ausa's country manager, it generated strong interest.