The International Quarrying and Recycling Show is said to be the world's biggest working exhibition of quarrying and recycling equipment. Held in its unique working quarry venue, around 461 exhibitors from all over the world will be displaying and demonstrating their latest equipment models. I and many other reader's whom I have spoken too, are really looking forward to this event as I haven't visited Hillhead since 2007.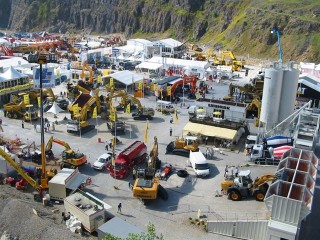 Check out the Hillhead 2012 promotional video for a taste of the action to come.

This year's event promises to be a spectacular affair, with the first UK public appearance of Caterpillars 300 tonne class 6030 mining shovel, sure to be on most visitors' priority list. Also making its debut in the UK will be Volvo Construction Equipment's new EC250D crawler excavator, and a couple of the company's latest G Series wheeled loaders the L60G and the L220G.
Many of the major players will have working exhibits at the various demo areas including the main quarry face where a 75 tonne Liebherr 954HD face shovel is expected to be working.
Let's hope the weather is kind to us and we can all enjoy a great day out. Come equipped for all eventualities as the weather can be very changeable in that area, and remember to pack your sunglasses as the white stone on the quarry floor can be blinding if the sun decides to come out to play!