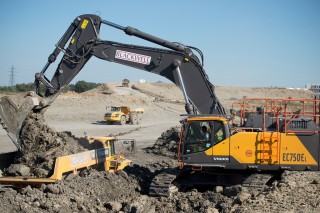 CA Blackwell (Contracts) has more than 160 earthmoving machines and tipper lorries operating on the earthworks subcontract on sections four and five for the A14 Integrated Delivery Team (IDT), a joint venture of Costain, Skanska, Balfour Beatty and designers Atkins/CH2M. This includes 72 articulated trucks and a range of excavators, graders and dozers.
Among Blackwell's plant on the job is a fleet of 24 new Volvo machines, supplied by dealer SMT GB. It has 20 A45G articulated haulers on the A14 as well as two 75-tonne EC750E crawler excavators, a 48-tonne EC480E and an EC300E.
CA Blackwell was taken over in January 2016 by opencast mining group Hargreaves Services. The subsequent full financial year saw turnover dip from £98m to £65m. Several years of losses continued, with a pre-tax loss of £7m in the year to 31st May 2017, but with the financial might of Hargreaves (£300m annual turnover), Blackwell is still able to invest in the fleet. Blackwell's plant is used within both its own and Hargreaves' operating markets of earthmoving, surface mining, quarrying and materials handling.
On the A14 the new Volvo machines are being used initially on the excavation and haulage of 500,000 cubic metres of Gault Clay, from a borrow pit at Dry Drayton to a link road embankment at the remodelled Girton Interchange. This has required the use of a temporary bailey bridge across the existing A14, which separates the fill site from the borrow pit, thereby negating the need for tipper lorry journeys via the A14 and the local road network, in turn benefitting road users and the local community alike.
In sections four and five of the scheme, the A14 is being widened to four lanes on each side, between Bar Hill and Girton; and junctions at Bar Hill, Swavesey, Girton, Histon and Milton are being improved. Construction started in 2016 and the road is due to open to traffic in December 2020. The work in these sections calls for about five million cubic metres of earthworks, including the development of two large borrow pits.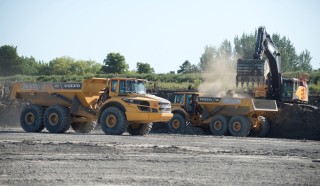 All of the Volvo excavators have been equipped with bright orange 'boxing ring' safety rails on top, as well as audible quick hitch alarms and 360° cameras, fitted at SMT's machine preparation centre in Immingham before being delivered to site. The Volvos are also equipped with fast-refuelling systems, to improve safety for the refuelling operator, eliminate spillage, reduce downtime and improve fuel cleanliness.

Blackwell says that it will also be exploring the possibilities of a number of advanced Volvo productivity tools available, including Dig Assist for the excavators and Haul Assist for the fleet of trucks.
"We've got telematics on all of the machines and Haul Assist is something that we will be looking at using on future projects," says plant manager David Lancashre. "Blackwell is always keen to try the latest technology, although there has to be a clear justification and benefit.
"Haul Assist will give us efficiency improvements – when the trucks speak to each other and decide which excavator to go to, you've got savings."
Much of the bulk earthmoving on the A14 project will be concluded this year, providing Blackwell with a fleet of new machinery for future use.
"This is the second season for the major muckshift in our programme," says David Lancashire. "We'll have machines available for the work that we can see going forwards with HS2 and other Highways England projects. We're adding to the fleet with more new machines, though we also have the capability to completely refurbish equipment to an as-new specification."
The A14 is an important project for Blackwell. In fact, along with contract mining activity at the Hemerden tungsten mine in Devon, it is one of only two major jobs in hand. However, it has HS2 coming up to look forward to, since it has been selected as a strategic partner to one of the major contracting teams for two sections of earthworks.