Since 1999, the recently demised Hydrex Group have acted as a hirer and as a distributor for the German made construction and loading machines in the UK. During this period, they had developed the UK market into one of Terex Fuchs most important globally. As part of their marketing strategy for further developments, Terex Fuchs began searching for a new dealer and service partner to support existing market segments whilst exploring other potential avenues.
With Blue Group's strong presence in the waste sector and planned expansion into metals recycling, and port handling applications, the synergy between the two companies was immediately seen as mutually beneficial for both parties. It was agreed with Hydrex that the Blue Group will take over the dealership of Terex Fuchs in the UK with immediate effect. "The Terex Fuchs material handling machines are perfect to integrate into the wide variety of products and services offered by Blue Group for the recycling industry", emphasised Mr Ron de Vries, Managing Director of Terex Fuchs. Commenting on the appointment, Ron de Vries added "We are grateful to Hydrex for all services and work performed to date and look forward to expanding our presence together with the Blue Group in the UK recycling market."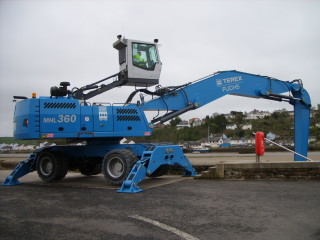 Blog archive photo
With a view to safeguarding existing jobs and ensuring optimal continuity for existing and potential customers, Blue Group will take over the staff and Bristol premises of Hydrex. To ensure a smooth transition between the two companies, Blue Group will continue to operate the Hydrex Portishead office as the base for the Terex Fuchs dealership and integrate the existing staff with Blue's strategically placed offices in Warrington, London, Bristol and Stirling. This integration into the Blue Group will ensure a first class, local service right across the entire country for Terex Fuchs operators.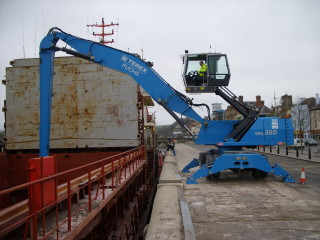 Blog archive photo

Blue Group is a total solutions provider, offering the waste management industry a wide range of materials recovery facilities, shredding, composting, screening and crushing equipment for the efficient and cost-effective processing of all waste streams. The Group has also developed and invested heavily in after sales product support with an impressive off-the-shelf stock-holding for spare parts and a team of fully trained technical service engineers giving UK wide coverage. This ethos will be carried over to support the Terex Fuchs range, thus ensuring machine owners can rely on the product to perform to its maximum ability at all times.
Commenting on the recent appointment as UK dealer, Brian Maxwell, director of Blue Group added "We are delighted to be appointed as the new distributor for Terex Fuchs in the UK. It has been our long term growth strategy to add a materials handler to our existing portfolio of exclusive brands, and we are thrilled to have secured the dealership of our number one choice in Terex Fuchs." Brian added, "One of our key strengths at Blue is our strong after sales support. We look forward to working with all existing Terex Fuchs customers and aim to improve the levels of service they have been receiving. We are looking to build on the world class reputation and quality of the Terex Fuchs machines and see our appointment as a long term commitment to becoming the UK's leading supplier of material handling equipment."