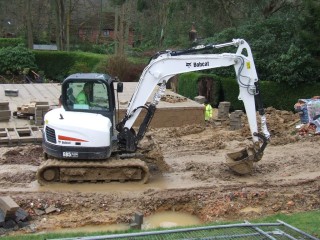 After analysing what it was spending on hiring machinery, the East Grinstead-based UK operation has just bought its first excavator – a reduced tail swing Bobcat E85.
The eight-tonner was supplied by southeast dealer Bobcat of London and is now working on its first project, a new Scandia-Hus housing development in West Sussex.
Project manager Jeff Willis says: "We looked at the costs we historically incurred through hiring in plant and found this justified the purchase of our own machine. We chose the Bobcat E85 excavator after a very thorough examination of what was available on the market. At 8.6 tonne, the E85 model offers much more muscle and speed than smaller minis to complete heavier applications such as earthmoving and loading muck into trucks. It also has enough digging depth to easily excavate the footings for the new houses."

Alongside the 10% increase in power over the previous E80 model it replaces, the E85 excavator has an increased bucket digging force of 61.8 kN, 13% higher than that of the E80 model. The bucket breakout force is 6.3 tonnes, while the arm breakout force is 4.4 tonnes with the standard 1.7-metre arm. Maximum digging reach is 6.92 metres at ground level in the standard configuration and the maximum digging depth is 4.18 metres.
More than 3000 Scandia-Hus homes have been constructed throughout the British Isles since it entered the market here in 1974, with some of the kits travelling as far afield as the Falkland Islands.