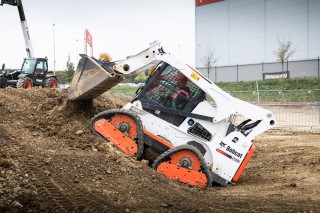 The 2019 event, which took place over two weeks in October, saw a host of new products including new M-Series loaders with Stage V engines and R-series loaders set to be launched in 2020.
One of the concept machines demonstrated at the show was the Bobcat quad-tracked loader (pictured above), with quad-tracks that are bolted on to the frame of Bobcat skid-steer loaders.
The bolt-on/bolt-off design of the quad tracks adds versatility to the machines to adapt to the environment and applications they are working in, Bobcat says.
At Demo Days, the concept quad-tracked machines were available for customers to test and provide feedback about the versatility of this feature which aims to give customers the flexibility to work productively in various environments or job sites. At this point, the quad-track machine is only a concept in the evaluation phase.

Another development on show was the Bobcat MaxControl system, which provides an IOS(Apple) based plug-and-play remote control system that uses a smartphone to control Bobcat loaders. This removes the need to get in and out of the machine to open gates, park the machine or load it on to a trailer. Most tasks that would normally be carried out while sitting inside the machine, including shovelling, can be done with the remote control.
The control panel (right), with its diddy joysticks, has been designed to feel familiar to gamers. The system has been launched on a limited basis in North America and will begin testing in Europe, Middle East and Africa.