The breakers, supplied by Sandhurst, are Atlas Copco HB2200, HB3600 and HB4200 units. These immensely powerful breakers weighing two, three and four tonnes respectively were purchased to suit DDS Komatsu excavators working on the site: PC290, PC350, PC360, PC450 and a PC490.
DDS Dmolition, of Manston in East Kent, has a £3m contract for the Peel Port Wellmarsh tear-down and site clear-up, which is expected to take 52 weeks.
Steel was first produced at the Sheerness site in 2003 but production furnaces and a large rolling mill on the 53-acre site had been left untouched since the specialist rebar steelworks was closed in 2012. A decision was finally made to develop parts of the site and demolition work began in 2016.
DDS Demolition predominantly used hydraulic shears and grabs to remove much of the steel building fabrication and steel-making infrastructure, during phases one and two, each lasting 18 weeks.
Phase three, scheduled to take 26 weeks, includes the serious challenge of breaking and removing thousands of tonnes of heavily reinforced concrete machine plinths, push walls and reinforced foundations. DDS decided some additional high productivity hydraulic breakers were needed to help deliver the project on time.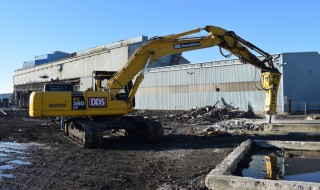 Although Sandhurst operates Europe's largest Atlas Copco breaker rental fleet and could have supplied rental breakers, on this occasion DDS thought buying was the right solution.
DDS group buyer Lee Pooley explains: "We faced some very heavy breaking on this job and wanted proven breakers with the capability of efficiently punching into heavily reinforced structures. We've hired Atlas Copco breakers and attachments for years from Sandhurst and know we can rely on Sandhurst as an attachment supplier as much as we can for the efficiency and performance of their Atlas Copco breakers. We felt buying was the right decision for us this time if we could get the right offer, so we called Peter Dean of Sandhurst who matched Atlas Copco breakers to three of our Komatsu's and we shook hands on a deal we were really happy with."