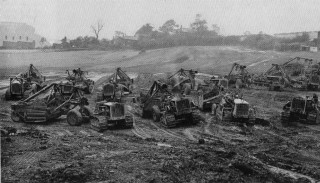 It comes from a new book called British Opencast Coal: a photographic history 1942-1985.
So you can forget your John Lewis telescope and your Eau de Sauvage from Boots. This is what every Digger Blog reader needs to be asking for this Christmas.
This is the latest publication from Keith Haddock – his 12th in fact – a civil engineer originally from Sheffield who worked for various UK earthmoving contractors before emigrating to Canada in 1974.
Over the past 15 or more years Keith has spent his retirement very productively on a second career writing about heavy equipment. And not many people know more about the history of earthmoving machinery than Keith. He is, after all, one of the founders of the Historical Construction Equipment Association.
His latest book details the origins of the opencast coalmining industry in the UK and documents the types of earthmoving machines employed during its first 40 years.
The history in his latest book is largely focused on who used what machines where. There are brief sections on some of the opencast contractors involved in the 1960s, including names such as Derek Crouch, WJ Simms Sons & Cooke, Martin Cowley, Sir John Jackson and, of course, George Wimpey.
The first half of the book is dominated by names from the past that resonate like Bucyrus Erie, Rapier, Euclid, Blaw-Knox, Lima, Monighan, Marion and LeTourneau make you go misty eyed . The second sees the arrival of hydraulic excavators and the names such as O&K, Poclain, Komatsu, Caterpillar, Demag and Liebherr come to the fore.
Sites such as Maesgwyn, Newman Spinney, Radar Norht and Ox-Bow are also featured.
But while the author has clearly put work into the words, this is primarily a picture book. Many of the 364 historical images are the author's own, gleaned from his long career in the industry. Others are from the National Coal Board or British Coal Opencast archives. If there is a finer collection of images of walking draglines, scrapers and early mining excavators, I have yet to see it.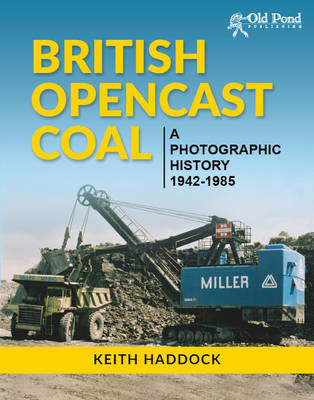 British Opencast Coal: a photographic history 1942-1985 is available directly from the publisher, Old Pond Publishing (ISBN: 9781910456071)

Or there's that online bookshop here.
The price is £29.95, which is somewhat steep for a book these days, but hey, it's Christmas (nearly). If they love they really love you they'll happy to pay it. Read it and weep.