Piling hammers don't come much bigger than BSP's CGL590. Free hanging, it stands 12 metres high and has maximum impact energy of 584 kNm. It is the biggest that BSP has ever produced
With its 40-tonne dropweight and pile sleeve, it weighs in at 82 tonnes. It can drive concrete and steel piles up to two metres – or larger, when fitted with special attachments.
The hammer uses BSP's hydraulic cylinder design that it developed around 15 years ago for its CX range of hammers. The 'through rod recirculation' design promotes a running pressure of 290 bar and reduces the hydraulic oil supply to 1,200 litres per minute. Controlling the dropweight is a key feature of all BSP hammers and the CGL590 is no exception. A maximum blow rate of 32 blows per minute can be achieved at 1.5-metre maximum stroke but when reduced to a 200mm stroke it can manage more than 75 blows per minute.
There are not many projects around the world requiring a piling hammer of this size. The CGL590 was specifically built for Brazilian civil engineering contractor Odebrecht, to be used to drive the 60-metre long, 1.8-metre diameter piles required for the foundations of a new bridge over the Maracaibo Lake in Venezuela.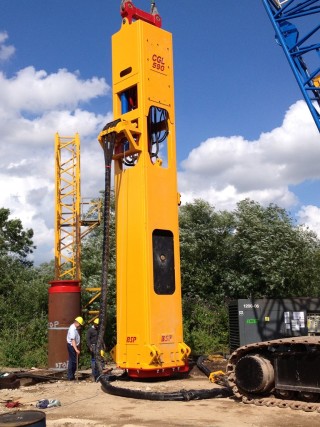 Originally Odebrecht rented the CGL590 but subsequently decided to buy it together. Two other large CG hammers with power packs bought by Odebrecht are also working on the project.
When completed in 2018, the Nigale Bridge will have carry four lanes of road traffic and two railway lines. At 12.4km it will be the longest road and railway bridge in Latin America.