The GDC Group, part of global heating products manufacturer Glendimplex, was recently in the market for a wheeled loader. It plumped for a Case 521F XT in waste configuration, not just because the machine was well up for the job, but also because it was only one they were able to get on trial.
Supplied by dealer Warwick Ward, the Case 521 FXT will be used in GDC Group's recycling process at its brickworks manufacturing plant in Brierley Hill, West Midlands.
This is the only plant of its type in the UK. It produces two million bricks per year for use in the Glendimplex range of electric storage heaters. During production any bricks that are cosmetically damaged, which averages out at about 3% of production, are recycled at the site and used in the production of new ones.
The main task of the new loader is to shovel the bricks into the plant's crushers and move the iron ore from the storage area into the plant.
The 10-tonne classe 521F XT wheeled loader is designed for just such material handling duties. The 4.5-litre Stage IIIB engine delivers maximum power for different work modes. The selective catalytic reduction allows the engine to run at peak performance, which provides faster throttle response while also maintaining lower temperatures and improved fuel efficiency over previous generation models. The auto-idle and auto-shutdown features also help save fuel.
GDC Group always used to lease machines for this task at Brierley Hill in the past but when its current lease was up the managers there decided to look into buying one.
Naturally they shopped around and approached several equipment dealers in their area.
"After looking at and comparing various machines from several manufacturers we thought the Case wheeled loader offered the best value for money against similar machines in this class," says GDC operations manager Paul Taylor. "We also really liked Warwick Ward and Case's proposition, to let us trial the machine on-site before we purchased.
"We originally went to several of the other leading manufactures, and Case was the only one prepared to let us have the machine on trial. This was a major factor for us, as we had not used Case machines before. One manufacturer would only let us trial their machine if we agreed to purchase it."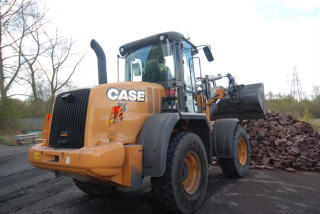 The company was also impressed by the aftersales service and maintenance package offered by Warwick Ward, as well as the extra advice it got regarding buckets and teeth.
"Warwick Ward also advised us to take a Hardox hardened bucket as we are working with and moving such abrasive material – broken bricks and iron ore, so we have decided to go with that option," adds Paul Taylor.