The two Northern heats, held at bucket and attachment specialist Miller UK's Cramlington head office, were won by James Binks, with Richard Christian as runner-up. The Southern heats, hosted by loyal Case customer McKenna Plant in Oxfordshire, saw Robert Broadwood take first place, with Tom Newby in second. All four operators will head to the Case Customer Centre near Paris later this year, to take on winners from other European countries.
The drivers were set two tasks, each calling for absolute control of the machine, while working against the clock to achieve a fast time. The first test used a CX30B zts Serie 2 mini excavator, while the second made use of the latest T series 695ST backhoe loader.
For the first test, competitors were tasked with picking up a pin suspended on a chain with the mini excavator bucket. This pin then had to be inserted into various posts, just fractionally wider than the pin itself, against the clock. The second test called for the operator to pick up footballs with the backhoe's bucket. These balls then had to be placed in a bucket within a structure of poles, each of which had a further football balanced on top. Knocking balls off the structure resulted in time penalties being given.
While many operators were keen to take part, other customers were equally happy to try out a range of new Case machines away from the stopwatch. These included the latest Case 721F wheeled loader and the first C series tracked excavators in the UK, both of which are equipped with Tier 4 compliant low emission engines.

The recently launched TR270 compact crawler loader was a popular model on the test field too, while the events gave many customers their first view of the new Construction King T series backhoe loaders, in both equal wheel 695ST trim and the more popular 580T model.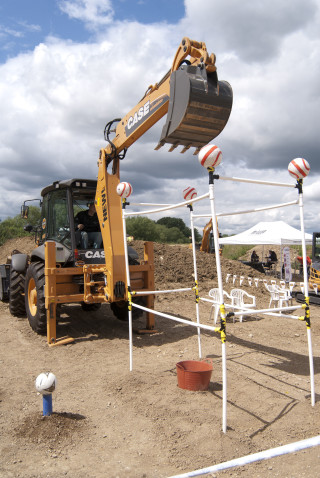 "The Rodeo days have been a big success for us this year," said Scott Freeman, UK and Ireland Business Director for Case.
"We have had a really strong turnout with some excellent operators taking part. Having launched so many new machines this year, the events have also provided existing customers, potential new buyers and our dealers with a perfect opportunity to try many of our highly efficient, low emission machines."
The four UK Rodeo finalists will take on operators from Germany, France, Spain, Italy, Scandinavia and Poland at the Case Customer Centre near Paris in October.
Case has also launched a new dedicated mini website www.caserodeo.com where participants can register for individual events in forthcoming heats and follow the progress of their fellow competitors