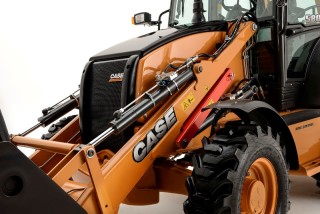 I'll be endeavouring to write something about the more interesting and/or significant ones that I hear about in the weeks ahead, and then bring further news after the show itself, which takes place in Munich, 11-17 April.
First up, for no other reason that happens to be at the top of my electronic filing tray, here's what we can expect from Case Construction Equipment.
Case's Bauma offering this year includes new crawler excavators and an interesting-sounding new backhoe boom and loader arm on the 580ST (pictured above).
Case launched its D Series crawler excavators last year at Intermat 2015. Bauma 2016 sees the addition of five new models to the Euro IV compliant series. The CX130D, CX160D and CX180D CX180D (all shown in action together below) fit in the medium range, and then there are two heavy duty models. The CX490D adds approximately 1.5 tonnes to its predecessor in the C Series, bringing its weight very close to 50 tonnes; and at the top of the range, the CX500D in Mass Excavation version has an operating weight above 50 tonnes. These latter two heavy duty models replace the previous CX470C and CX470C ME from the C series.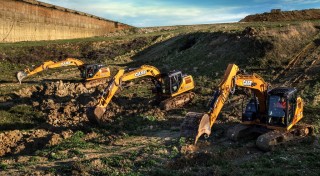 The Case Intelligent Hydraulic System helps deliver faster cycle times – up to 12% faster than the C series, Case says – thanks to electronically controlled hydraulic pumps and larger main valve. The new models also have more lifting power.
Case says that the engine technology and new hydraulics result in lower fuel consumption than the previous generation. There is an after-treatment selective catalytic reduction (SCR) system and diesel oxidation catalyst (DOC). With this solution, exhaust gases are treated through chemical reactions. No particles are trapped in the system, so that no diesel particulate filter (DPF) is required. On the downside, AdBlue fuel additive is required, but the AdBlue tank only needs to be refilled every 10 fuel refills
There are three working modes – Speed Priority, Heavy and Automatic – so that the machine is only ever working as hard as it needs to. The new models also have Case's energy saving systems, which include Pump Torque Control, Auto-idle and Idle Shutdown functions, Spool Stroke Control, Boom Economy Control and Swing Relief Control.
Here is the CX180D: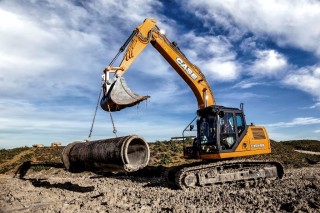 And here is the CX130D:
Case D Series crawler excavators

CX130D

CX160D

CX180D

CX490D

CX500D ME

Max weight

14,000 kg

17,400 kg

18,500 kg

48,300 kg

51,000 kg

Engine Power
(ISO 14396)

78.5 kW (105 hp)

86 kW (115.3 hp)

86 kW (115.3 hp)

270 kW (362 hp)

270 kW (362 hp)

Engine Torque (ISO 14396)

356 Nm

356 Nm

356 Nm

1363 Nm

1363 Nm

Pumps flow

2 x 129 l/min

2 x 142 l/min

2 x 142 l/min

2 x 364 l/min

2 x 364 l/min

Max reach

8.3 m

9 m

9 m

11.9

10.52

Max digging depth

5.5 m

6 m

6 m

7.72

7,31

Case will also introduce a new backhoe design with in-line cylinder geometry and inner Extendahoe on its 580ST model (above and below). This will be available as an alternative to the existing boom with overlapping cylinders and outer Extendahoe, giving customers a choice of design.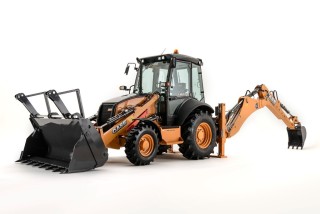 The standard design with overlapping cylinders has a shorter boom, lower transport height and protected outer sliding extendahoe.
Case says that the new in-line geometry results in better distribution of forces over the entire length of the boom, meaning high stress resistance. Breakout force of the bucket is 5,520 daN and for the dipperstick it is 4,100 daN – and the boom reaches as far as 6,647 mm from the swing centre.
In addition, the narrower frame of the boom provides better visibility of the working area at the back of the machine, Case says.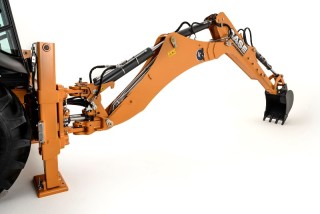 For more information about Bauma, how to get there and what to see, etc, go to www.bauma.de