The landmark machine was handed over to Canadian coal mining company Teck Resources, via dealer Finning Canada.
"The legacy of the Cat large dozer began a little more than 40 years ago with a revolutionary elevated sprocket and new undercarriage design that looked unlike any dozer of its day," Caterpillar tells us. "The groundbreaking suspended undercarriage with high drive design conformed to the ground better than standard oval tracks, helping to improve machine traction, extend undercarriage life and enhance operator comfort."
Cat's large dozer range comprises the D9, D10 and D11 models, and all 40,000 of them have been put together in Caterpillar's Building SS in East Peoria, Illinois.
Greg Hepler, product manager for large dozers, says: "Caterpillar transformed the track-type tractor with the introduction of the suspended undercarriage with elevated drive sprocket. This innovation, along with a long history of others, enabled Cat large dozers to set the standards for efficiency, productivity and durability. These iconic machines continue to define who we are and play a key role in building a better world."
He adds: "This milestone is important, not just because of the sheer number of Cat machines sold, but also because it represents the many long-lasting and mutually beneficial business relationships established with customers like Teck."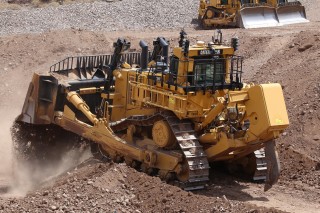 Denise Johnson, Caterpillar group president responsible for mining and resource industries, handed over the keys of the 40,000th large dozer to Louis DeLuca, Teck's director of supply management, during a ceremony at the factory on 25th October 2018.
Over the past 20 years, Teck has been one of the biggest customers in the world for Cat large dozers, with each machine logging up to 7,000 operating hours each year in its mines.
The 40,000th large dozer, a 102-tonne D11T, will operate in the Elk Valley Region near Sparwood, British Columbia, where the company produces coal for the steel industry. It will be used for production dozing, dump area support, mining shovel support and haul road development.
Teck's new D11T is equipped with a Cat C32 engine, producing 850 horsepower and capable of moving up to 900 loose cubic metres of material per hour. It is fitted with VIMS 3G, Automated Blade Assist, Enhanced Auto Shift and Advisor Monitoring System.