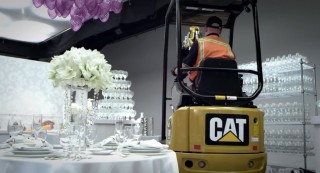 Apparently there's $45,000 of fragile merchandise in there – 3,000 pieces of china, crystal and art work.
If you ask me, the star of this show is not the machine but the operator, Ryan Neal, who is Caterpillar's senior demonstrator/instructor. After the first run through he said it was too easy and demanded the aisles be made smaller.
You can see the video below...

Caterpillar admits that actually there were some breakages during the filming of this – three pieces were broken by the set designers during unpacking and re-packing. The excavator caused no damage at all.
Once again there is a behind the scenes 'making of' video, seen below...