It shows a very innovative way to perform some landscaping work high above some gabion baskets from ground level. The contractor has loaded the Caterpillar 315D excavator onto the back of a Cat 730 articulated dumptruck to gain the necessary height for the excavator to perform the task in hand. It appears that the excavator is safely chained down on the back of the truck, but even so it must be a strange feeling operating the machine from that position.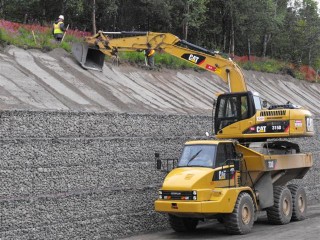 Don't forget if you are on Facebook why not join our Friends of the Digger Blog group.

Thanks to Verbruggen for sharing this awesome photo.