With 40 machines on display in two different exhibit areas totalling 60,000 square feet, Caterpillar's showing will be among the largest at the event — ranging from a skid steer loader to a 96-ton excavator.
Eight Cat machines will make their public debut at Conexpo and a half dozen more machines introduced recently will be on display for the first time at an equipment show. The newest Cat machines to be displayed include excavators, wheel loaders, a dozer, an articulated truck, a telehandler and cold planers. Caterpillar will also introduce new remote control technologies and connectivity technologies at the show.
New machines to be displayed include the M317F wheeled excavator, pictured above, a compact radius design for working in tight work areas. The new Cat compact radius wheeled excavators deliver the same capabilities and efficiencies as their standard radius counterparts.
The 390F (below) and 336F XE excavators, both with crawler undercarriages, have been updated to deliver improved productivity and lower costs. The 390F can be equipped with what Cat says is the industry's only integrated payload system for accurate truck loading. The 336F XE has the payload system as standard equipment, as is 2D GRADE—with the option of a number of integrated Cat Connect grade control systems.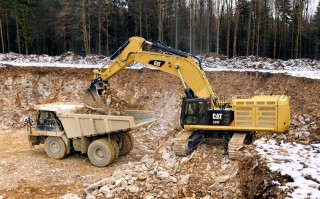 Cat's new 745 articulated truck has a new cab with improved visibility and new machine control features. There is also a new stability assist system, to reduce the risk of rollover, and the addition of economy mode to reduce fuel consumption.
The updated D6T dozer to be displayed has a new transmission and Auto Shift system that Cat says gives fuel savings of 20% compared with the previous model and up to 30% fuel savings in light-load and finish-grading applications. Additionally, the D6T now is equipped with GRADE with Slope Assist as standard equipment.
Cat plans to feature another dozer in a live demonstration – a D8T dozer working back at Caterpillar HQ in Peoria, Illinois will be controlled remotely from the operator station on the Cat stand in Las Vegas, which is about 1700 miles away – very remote control!

The new Cat Command remote control system for the D8T offers a choice of two operator interfaces—a portable operator console designed for line-of-sight use and an operator station that can be located remotely when the dozer is fitted with the Command Vision System. In addition to the D8T demonstration, a Cat Command remote control system equips a 988K wheeled loader that will be displayed.
New Cat wheel loaders for Conexpo include the 986K, which replaces the H Series model. The 950 GC will make its North American debut, where it will be displayed alongside the full-featured 950M, the 972M XE and 982M (below).
In addition to the big machines, Cat compact and building construction machines will be on display at Conexpo. The new TH514D telehandler has a three-section boom to give 14-metre reach and five-tonne lift capacity.
Caterpillar also will show some innovations across its 14-model line of compact excavators. The 300.9D Versatile Power System (VPS) with H25 Hammer is designed for indoor demolition applications. Another tool is the 304.5E2 Extra Tool Carrier (XTC), which includes a skid steer loader coupler interface in place of the traditional dozer blade.
Conexpo/ConAgg takes place in Las Vegas, Nevada, 7-11 March 2017.