The machine in this video is a Broyt X20, which was a 12 ton class machine that had a production run from 1973-78 during which time around 965 machines were manufactured.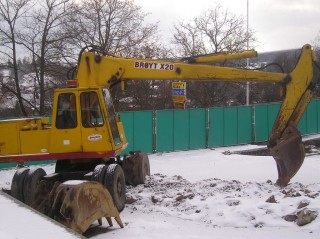 By today's standards the Broyt machines were very unusual, featuring strange looking booms and hydraulic ram arrangements, but the most notable difference was the lack of any drive system on the undercarriage, the operator was required to pull/push the machine around by using the digging arm when on site, a concept that would be unthinkable today!
When the machine was required to travel much longer distances it would get a "piggyback" lift from an adapted truck, this was performed by placing the bucket onto the bed of the truck and using the boom to lift the machine up onto its back wheels for travelling, you can see how this operation was performed in the video.
Apologies for the Norwegian soundtrack, but I don't feel it detracts from the enjoyment.

The only Broyt excavator that I have got close to personally was a X45TB 45 ton model which was owned by a local company in my neck of the woods, Luke Furse Earthmoving.
This tracked machine was from the period when Broyt was owned by the Brown Group, and the business was renamed Brown Engineering (Bryne) Ltd.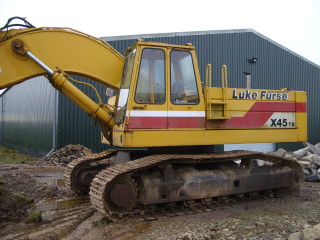 This powerful machine was used by Luke Furse Earthmoving as part of their recycling operation, where it was put to work loading the company's concrete crushing unit.
The machine which was formerly owned by the Downderry group was sold to a customer from Poland early in 2008 when it was replaced by a Caterpillar 350.