Collins Demolition has excavators ranging from six to 75 tonnes and a wide range of Rotar grabs, shears and pulverisers.
Although Scott Craddock had been in the demolition industry all his working life, the Rotar attachments were new to him. He'd heard of them but he'd never used them before. When he joined the Collins group to set up the demolition arm of the company, he had his first insight into the Rotar range and was impressed with their versatility and performance.
Rotar, represented in the UK by Worsley Plant, has an extensive product line with equipment for excavators and wheel loaders suited to demolition, construction and recycling applications.
A recent Collins project was pulling down the Sun Centre water park in Rhyl at the back end of 2016. The Rhyl job involved using a fleet of Volvo machines fitted with Rotar pulverisers and grabs along with a new shear that was quickly purchased for the job. It was Scott's first experience of the Rotar shear and he was impressed with the speed and robustness of the shear, coupled with its ability to get into tight places.
The pulveriser processed 10,000 cubic metres of concrete and the shear cut 850 tonnes of scrap over the course of the two-month job.
There's good video of it on Youtube by Paul Argent, which you can see here too.
On the back of that experience, and a rising workload, Collins Demolition is now increasing its Rotar inventory.

Collins Demolition is now on site stripping out a former Primark warehouse at Magna Park in Lutterworth, working for main contractors PD Industrial. That's where the photo at the top here comes from, as well as the one below. Collins is taking out all the steel racking as well as a mezzanine floor of 15,708 square metres, returning the building to an empty shell so that it can be re-let by the landlord. On this six-week job they are using two more new Rotar attachments – an RSS30 scrap shear and an RG37 grab.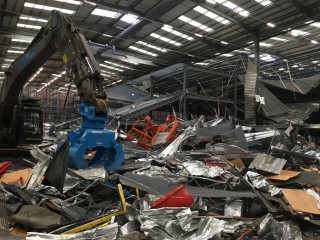 Scott Craddock says: "I've been converted to Rotar. Their demolition attachments are the best on the UK market and we wouldn't look anywhere else. They are robust, powerful and extremely hard working. We rarely have any problems with them. I'd recommend them to anyone."
Along with all the Rotar attachments they have from Worsley Plant, Collins Demolition is also considering trialling an MB Crushing Bucket during 2017 to help with on-site materials recycling.
There's another video here, this one from Worsley Plant...