EJK Building Contractors is always keen to have the very latest machines in order to ensure maximum on-site efficiency at all times and when company owner Eddie Koracevic saw the small Weidemann machine he could immediately see its potential.
After a brief demonstration by local dealer RF Hayden, which proved that the machine could tackle difficult terrain with ease, Mr. Koracevic decided it was perfect for his needs.
Commenting on the little telehandler Mr. Koracevic said: "It's a phenomenal machine thanks to a proper 4-wheel drive system which enables it to go pretty much anywhere with amazing stability thanks to its 4-wheel steering. I am also very happy with the service provided by Hayden, a company in which I have great confidence"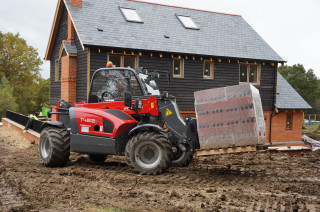 In addition, he likes the unit's comfortable cab and ease of operation and said: "We run a 17 m reach telehandler and the Weidemann is just a scaled down version with an ability to lift 1.2 tonne to a maximum height of 4.5 m

The T4512 is powered by a Yanmar engine developing 29.6 kW (40 hp) @ 2800 rpm and is only 1.96 m high and 1.56 m wide which enables it to work in confined areas with ease. The latest version now sports an award winning driver assistance system called vls (vertical lift system) by which the position of the telescopic cylinder is automatically adjusted as the lift cylinder is operated which provides safe and flexible working and almost vertical lowering of the arm for improved stability when handling heavy loads.