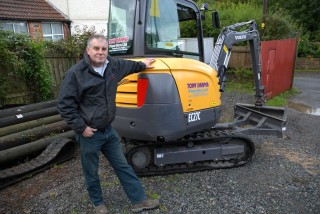 It's a family business that's been going for 20 years and does a lot of work for Western Power Distribution (WPD).
After much deliberation, he has recently bought his first Volvo machine, an EC27C compact excavator, and so far he seems chuffed to bits with it.
He did his homework first, checking out what was available on the market, and he spoke to other Volvo users in the area about the product and the after-sales support from local dealer Plant & Engineering Services (PES), down in Exeter.
"After first making contact with PES, I was invited to try out a demonstration model and put it through its paces to see it was what I was after. I have to say its powerful hydraulics and lifting ability surprised me, to say the least, and after lifting a 45 gallon barrel full of concrete (that weighed 539kg) – with a lifting eye at the top so it could be lifted safely with a chain and "d" shackle – it handled it with no problems at all. I knew it would be just right for the type of work that I carry out and we decided to opt for the Volvo EC27C."

He says: "I'm certainly impressed with the power and performance of the machine and it ticks every box for the work we undertake."
With the bulk of Draper's work coming from WPD in the North Devon area, the machine is already in constant use, either boring holes for electricity supply poles or physically erecting poles into the ground.
"The machine has just the right amount of lifting capacity to handle the poles, some as tall as 12 metre in height. It's extremely stable and has plenty of power and height/reach for my auger attachments," he says.
To safely handle the power supply poles, some of which are 12 metres long, he has had optional hose rupture valves fitted to both the boom and dipper cylinders.