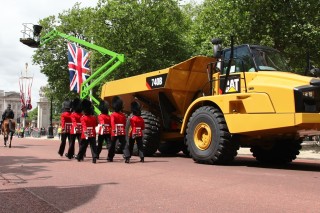 In a fit of patriotism (possibly 13 months behind the arc of the London Olympics, or maybe on cue for the royal baby), our greying funsters have organised a parade down the Mall of 150 different vehicles that have been made in the UK.
While your Jags, Astons, Rollers and Nobles lead the way, followed by black taxis and ice cream vans, the really meaty stuff brings up the rear.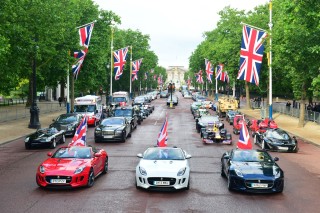 Construction plant from those iconic British companies Caterpillar and Komatsu join true Brit JCBs and Niftylift boom lifts. New Holland tractors and DAF lorries are also in the line-up. Every machine built in Britain. Total value of £200m of all the equipment on show is £200m, apparently.
Caterpillar dealer Finning put up a Cat 740B, Cat 740B Ejector, Cat 907H, Cat 908H, Cat 432F and a Cat 444F for the programme.
Patriotic Finning director Jason Howlett said: "Top Gear is a British institution and is now one of the world's most watched television shows with a global audience spanning more than 200 territories. To have the team of Clarkson, Hammond and May bringing British-manufactured plant and equipment to the masses is significant for everyone involved in the industry and I think it should be a source of great pride."
With a full Land-of-Hope-&-Glory crescendo, he added: "Finning and Caterpillar both have a proud heritage in building and maintaining world-class plant and equipment in Britain and together as the UK's largest employer in this industry to have this recognised alongside a whole host of other leading names in British manufacturing, is a fantastic opportunity to exhibit the strengths of our industry. I hope this episode of Top Gear will remind people of the quality of products that are manufactured in Britain, and what an example we should be to the rest of the world."
8pm, BBC Two, Sunday 4th August 2013. Be there.

Or set your modern recording device of choice.
Or, failing that, check out iPlayer sometime later.