Slotting into the Cormidi tracked dumper range between the existing 50 series and 65 series machines, the new 60 series is a 600kg model that features an all new and stylish engine canopy that is made of glass fibre and enables the machine to achieve a sound level rating of only 101dB LwA.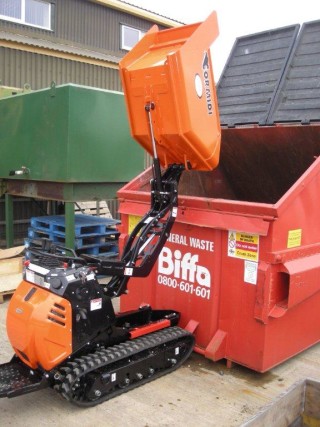 The machine features a new undercarriage which comprises of four bottom rollers and one top roller, total width of the machine is 670mm and it has a low ground bearing pressure.
There is a choice of two engine options on the 60 series, both of which are supplied with electric start facility, a Honda GX200(petrol version) or a Yanmar LN70 (diesel version) which are used to drive the powerful hydraulic system.
These new models feature a newly designed control layout which consists of an array of six levers. The two left hand levers control the travel direction of both left and right tracks, whilst the shorter middle lever controls the machines speed range (low is up to 1.8km/h and high is up to 4.km/h

The additional two levers control skip raise and tip, with a maximum top pin height of 1.7m
Check out this promotional video from Cormidi.