Huntsmans has recently bought a new Atlas Copco HB 5800 breaker for primary breaking in its Cotswolds quarry. The breaker is at the forefront of the operation so uptime is vital. The breaker is expected to work approximately 1500 hours a year with regular service intervals to ensure its reliability.
The quarry has been operating since 1918 and now employs more than sixty people. It mainly produces building stone, aggregates and agricultural lime for use in the local construction and farming industries.
Huntsmans' relationship with Atlas Copco goes back a long way. Over the years it has bought two Krupp HM 2600 Marathons and three HB 5800 DPs from the Atlas Copco heavy breaker range.
The new HB 5800 breaker is used to selectively quarry stone to produce the highest quality possible. The breaker, mounted on a Volvo EC700 with a quick hitch, can be easily swapped for other attachments when tackling overburden or weaker rock.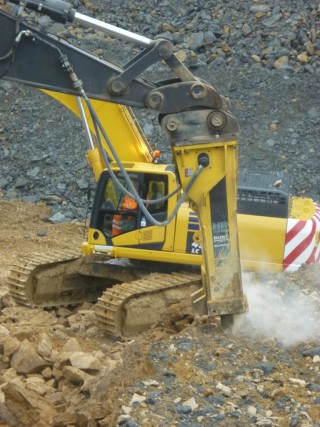 Huntsmans managing director David Glenn says durability and service are his main reasons for going with Atlas Copco products.
"The Atlas Copco breaker is at the core of our operation so reliability and the relationship with the manufacturer is key," he says. "Already this year, we will have produced 400,000 tonnes of stone using this method."
Since Huntsman has been buying breakers, the key development has been the huge increase in power-to-weight ratio. Due to lower weight and higher efficiency, less hydraulic input power is required from the carrier while maintaining maximum impact performance, Atlas Copco says.