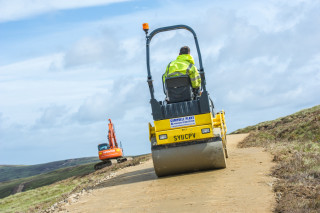 Since 2009 McGowan Outdoor Access has been providing low impact, environmentally sensitive methods of construction to create roads, pathways and bridges in rural Scotland. It works for the National Parks, such as Loch Lomond, the Forestry Commission and private estates
In some locations in Scotland there is a large amount of Peat Hags with little mineral material. Added to this, accessibility to the site is often difficult which makes the potential to bring in material a lot harder Using the isolated sources of rock outcrops near some of these sites seemed a good solution to the problem but McGowan Outdoor Access needed to find the best way to break these down and make them suitable for use.
Managing director Ross McGowan heard about Worsley Plant and in touch. Worsley managing director Sean Heron recommended the MB Dig A Crusher BF90.1.
Working with this crushing bucket, McGowan is able to crush down the rock to 60mm and then transport it to where it is needed in dumpers. The material from these rock outcrops produces a good quality product to use on the job with the added benefit of allowing recycling of naturally available materials. With the roads located high up in the mountains, the location of a larger crushing plant was unfeasible.
Using the crushing bucket on a Hitachi Zaxis 210, McGowan Outdoor Access have been able to produce 30 tonnes of material per hour. For just £3 a ton they are then producing a product that once transported onto the job they are then crushing down from 60mm down to dust.

McGowan is now considering a smaller MB Dig A Crusher BF60 to work on smaller scale jobs such as mountain paths.
Ross McGowan says: "Using the crushing bucket has saved us considerable time, as well as transportation and material costs. The nature of our work and the difficult access to many jobs means that recycling materials not only makes the job more cost effective, but also helps us to achieve our aim to provide environmentally friendly methods of building roads, pathways and bridges in rural areas thus protecting the natural environment and reducing our carbon footprint."