Fred Champion Groundwork's is one of the South West's leading civil engineering companies. Since being established by Mr Fred Champion in 1983, the business has always strived to find new and innovative ways to expand and improve the flexibility of its large plant fleet. The recent addition of a Dig A Crusher 1200 crushing bucket, is further evidence of a forward thinking approach to modern excavator attachments.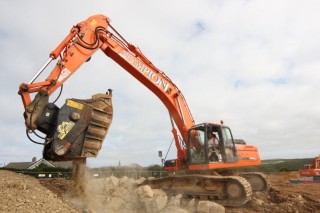 Rock and material recycling, is a big issue on sites across the country these days, none more so than down in the West Country where rock can be a big problem. On a recent job in the Cornish coastal town of St Ive's, there was a lot of hard granite rock to contend with on site. The regular way to deal with this kind of excavated material, is to bring in a static crusher, which is what Champion Groundwork's initially did to deal with the bulk of the rock, but following the crushers departure it soon became apparent that a different approach was going to be required as more and more rock was dug out from the drain runs and footings. A decision was made to test out a crusher bucket to see how it would cope with the volume of rock that was arising.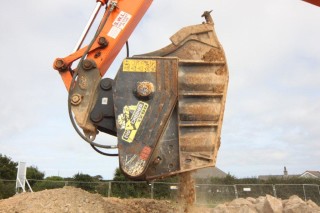 A 2009 demonstration model was supplied to Champion's from Worsley Plant, who are the owners of the Dig A Crusher and Dig A Screener brands and have a long history in the crushing, screening and recycling markets. The 1200 is the largest crushing bucket in their range and weighs in at around 4.9 tonnes. Following a very successful trial period, the decision was taken to purchase the demonstration unit. The bucket, which is now deployed to a new site in Portreath, is mounted on one of Fred Champion's 35 ton class Doosan DX340's which is operated by long serving Champion driver, Kirk Hough.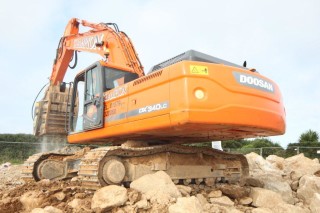 The Dig A Crusher 1200 is designed for excavators in the 30 tonne + bracket, its jaws measure 1200 x 450mm, it has a bucket capacity of 1.0m3 and depending on material, it is capable of turning out an estimated 110 tonnes per hour.
I asked Kirk for his thoughts on the crusher bucket, Kirk said, "I don't think it would ever replace a static crusher, but for what we are doing it's ideal, we are managing to make good use of a material that would have otherwise gone away to the tip at a price." Kirk continued "We have found that the unit copes well with the extremely hard rock we encounter on a daily basis, and the material we generate is used on things like scaffold margins and car parking bays, overall the company's investment in the bucket makes great economical sense".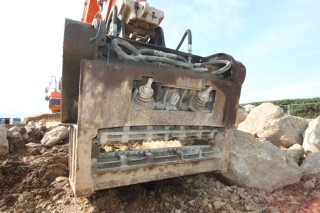 Operator Kirk Hough has worked for Fred Champion Groundwork's for 10 years, initially starting on the ground, before taking up the drive on a Case 595 backhoe loader. Kirk then progressed onto a Case CX130 13 ton tracked machine, before stepping up again to a 20 ton Doosan. He is currently on his second Doosan DX340, having received his current mount in 2010.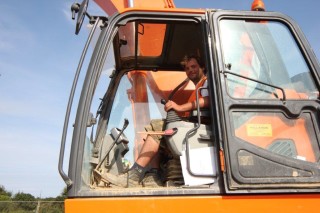 I took to the controls of Kirk's machine to tryout the Dig A Crusher myself, my initial thought was that I was very aware of the weight on the end, but as with most new attachments one soon becomes accustomed to how the machine reacts, and you simply adjust your operating style to suit. The crusher on Kirks machine is activated by use of a button on the right hand joystick, personally I feel an electro foot pedal would be preferable and I am sure it could be fitted if required. The bucket coped well with the rock I processed through it and I could clearly see the benefits of such a unit.
Using one of these Dig A Crusher bucket makes great sense for any business, especially in the current economic climate, making the machine a one stop shop on site, being able to dig, demolish, crush, recycle and load. It's also a safe one man and machine operation with virtually no chance of anyone getting injured as opposed to a regular open jaw crusher scenario. In addition to the obvious financial benefits, it's also very environmentally friendly to be recycling waste materials today, and furthermore this product produces minimal dust and noise pollution, another important factor on many of today's busy and congested sites.
With major companies cutting profits to the bone for contractors, these buckets could prove to be extremely beneficial for all who deploy them on site. Here is a short video of the machine in action.
The Digger Blog thanks Fred Champion Groundwork's and Kirk Hough for the assistance in the compilation of this post.