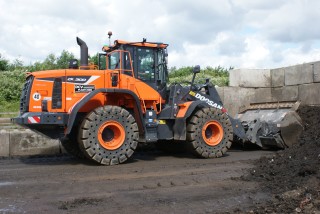 DCV has bought a new DL300-5 wheeled loader along with a number of new Doosan crawler excavators, including the 14-tonne DX140LC-5 and DX140LCR-5 and the 25-tonne DX225LC-5 models.
With a bucket capacity of 3.0 m3, the new DL300-5 wheel loader at DCV Engineering is intended to meet a range of material-handling needs from loading and transporting granular material, such as sand and gravel, to industrial, mining and quarrying applications. The DL300-5 wheel loader is powered by the Doosan DL08 6-cylinder diesel engine, with an output of 202 kW at 1800 rpm.
The 5.7-inch full colour LCD display panel in the cab is suitable for day and night work. The monitor has two customisable screens to suit operator preference, giving a read-out of machine settings and maintenance data. A rear-view camera enhances visibility and safety.
DCV's DL300-5 is currently on hire to a local recycling and recovery business in Wellingborough.

Owner and joint managing director David Venn says: "We began purchasing Doosan equipment in 2014. Our first Doosan machine was a DX225LC-3 crawler excavator. With the excellent quality, reliability, performance and residual prices offered by Doosan equipment, it is not surprising that we have continued to purchase Doosan excavators and now Doosan wheel loaders."
DCV Engineering offers a nationwide service, with access to a hire fleet comprising more than 500 pieces of equipment. As well as self-drive and operated plant hire, the company has branched into road sweeping and access equipment and has a large telehandler fleet. The company also has specialised knowledge and experience of the recycling industry, with a variety of mobile waste recycling equipment for hire, including crushers, trommel screens and deck screens.
The company was originally incorporated in 2004 but listed as dormant until 2011. "We started as a one man and van operation," says David Venn. "Today the company has four service engineers and three full time delivery drivers. Other members of our staff are also fully trained with HGV licences so they can help out with deliveries if necessary. We are a family company and this is indicative of the extensive training we want to provide for our staff – DCV Engineering believes very strongly in investing in our people."