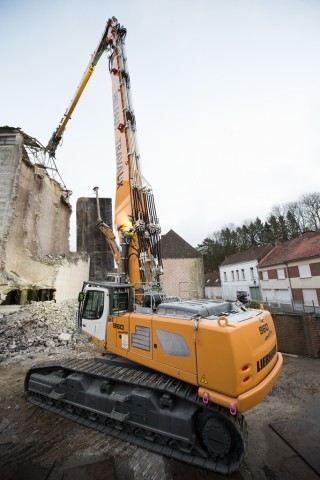 The excavator is made at Liebherr's Colmar factory in France. Fittingly, therefore, it was launched at Intermat 2015 in Paris and the first customer was French demolition and earthmoving contractor Helfaut Travaux.
Our picture shows Helfaut using its new R 960 to demolish a silo near Frévent last December.
The R 960 Demolition crawler excavator supersedes the previous model, the R 954 C Demolition, and provides working heights of up to 33 metres. It has an output of 240 kW/326 hp and an operating weight of 93 tonnes. It can operate tool attachments weighing up to 3.5 tonnes.
It comes as standard with the Liebherr Demolition Control System (LDC), which won the innovation award at Intermat 2015. This system gives the operator information about the precise position of the demolition tool and sol protects the stability of the excavator. The position of the tool is displayed in colour and in real time on the touchscreen, along with the tilt angle of the machine. This provides the operator with real-time information about what movements are permitted. This minimises the risk of human error tipping the machine over.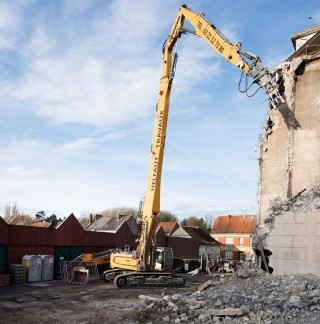 Helfaut Travaux was founded 35 years ago in the town of Helfaut (near St Omer, less than 30 miles south of Calais) by Paulette Berthélémy who still runs the company today, although now with Pascal Cochet as her managing director. She began with just one employee and one hydraulic excavator and now has a workforce of 63 and an annual turnover of more than €10m.