These photos are something a bit different to what we normally post on the digger blog, due to the fact that there are not many machines in them. However, I feel they are very worthy of inclusion because they give a great insight into how things were done back in Wimpey Construction's heydays back in the 1960's. The man on the far left of this photo, with his hand on the steel, is Joe O' Neil Ron's father, who was the foreman fitter at Dawley Road Depot in those days.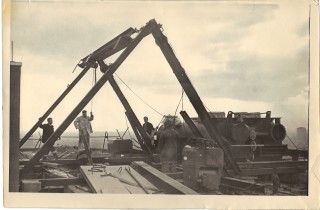 The first 3 photos, show a job which Wimpey's did at Drapers Gardens in London from 1962-64. They depict boilers being lifted onto the roof and installed after the original building contract was finished. The tower cranes had long been dismantled hence the use portable derrick style cranes.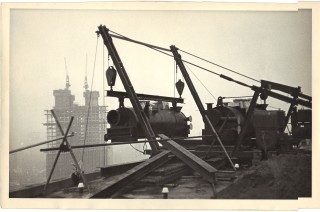 Ron said "The Dawley Road depot and the black gang (which I later joined in 1971) were brilliant at doing the impossible. That derrick in the photo was capable of being dismantled and moved down manually, and what did not go down in the lift literally went over the side!"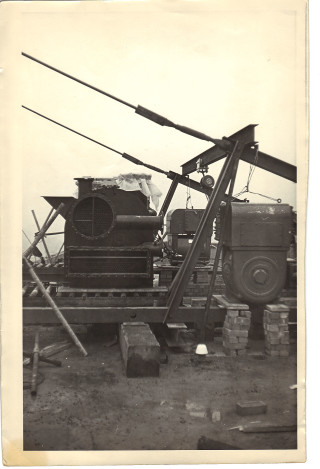 In this next couple of photos, we see the Dawley Road team in action again dismantling plant and tower crane components, that were used in the construction of the tower block. Note the GPO Tower (now BT) in the background which might indicate that this was in fact the Euston tower block.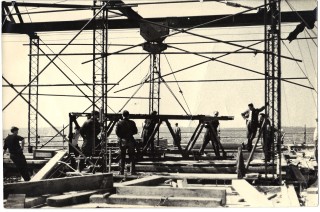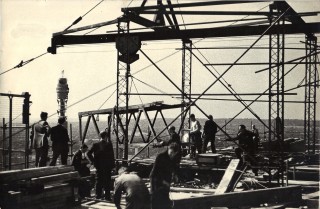 In this last photo, we see a shot of the old Dawley Road depot itself which is probably circa 1960. The large crawler cranes are Lima 2400's with the one on the left being set up in dragline configuration. According to Ron this machine could of been from the Maesgwyn open cast coal site in Wales.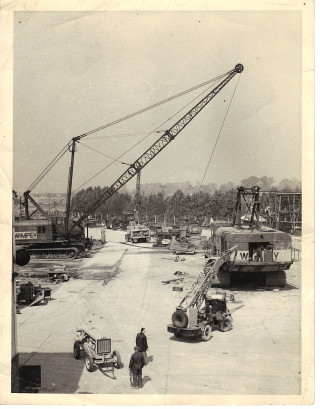 Ron also commented on the differences between those days and now, "Very little health & safety, nothing to protect your head except a cloth cap, no hi-viz just a donkey jacket to keep out the elements. In those days men were men and were trained to look after themselves. Happy days, which I am sorry to say will never return" said Ron.
Ron has promised us a load more photos from his time with Wimpey's and hopefully there will be more plant ones too. Thanks must go to Ron for sharing these historic old shots.