Our first port of call was the beautiful and scenic city of Ostersund, which is the capital of Jamtland County and is located on the shores of Sweden's fifth largest lake, Lake Storsjon ("The Great Lake"). Our host for the day was Nils Giesen from Engcon, who took us to see some machines in action around the city.
As I expected, tiltrotators are in use everywhere in Sweden, it doesn't seem to matter what job site you pass, virtually every machine is equipped with them. It's quite simple really, if you don't have a tiltrotator fitted to your machine in Sweden, you will not get any work, as all main contractors know and realise the big benefits such systems give in terms of speeding up the job and profitability. The operator of this Caterpillar M315C wheeled excavator, was keen to show me the versatility and usefulness of the tiltrotator concept, on a small job site where he was replacing some damaged tarmac in a car park area.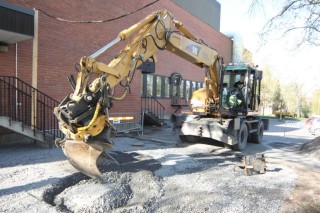 Although an older model machine, the articulated boom configuration when coupled with the endless options of the tiltrotator, make these kind of machines even more useful as its operator was keen to show us, with a series of demonstrations using a selection of buckets and his tarmac cutter attachment.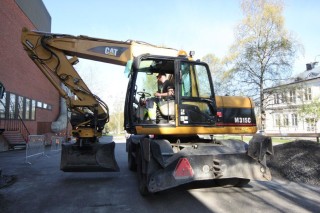 We continued our tour around the cities job sites with a visit to a pipeline contract, where an Engcon equipped Cat 325C owned by large local contractor Curt Sillstrom, was performing backfilling duties on a drainage pipeline job.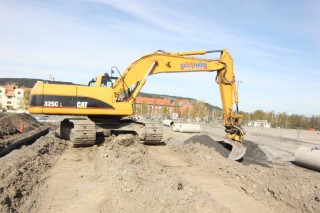 Once again, as I have experienced recently during my tiltrotator demonstration period, these items of kit require so much less movement from the base machine itself, as one simply adjusts the angle of the bucket when depositing the material rather than having to move the whole machine every time, this results in the material always being placed where it's needed and cuts down on the need for heavy manual labour from the team in the excavation.
We then moved on to another site where houses are being constructed on what was old military land. At the time of our visit more drainage pipes were being laid using another Curt Sillstrom owned machine, in the shape of an Engcon equipped Caterpillar 329D, which was operated by Marcus Bergman.
What we witnessed here was one man on the ground and one tiltrotator equipped machine & operator working in perfect harmony together, as Marcus brought the pipes over to the work area and then using the integrated Engcon grab picked up and placed the pipe into the trench.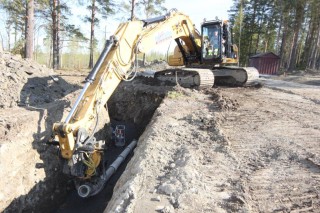 Once the pipe was set in place the pipe was pushed home using the machine, with such small pipes here in the UK this pushing home would more than likely be done by the guy in the trench in the old fashioned way with a piece of wood and a bar, but everything in Sweden seems to be driven towards mechanization which means less working effort for the ground crew which can only be better for the workers welfare.
Marcus's machine is certainly an "all singing all dancing" set up, as is often the case. The Swedish market dictates a much higher specification on the machines compared to what are delivered into other markets. This machine, as well as having the Engcon tiltrotator fitted, also has the latest Trimble GPS working system, extra winter lighting, twin strip style flashing beacons, twin air horns and heavily tinted glass on some of the cab windows. It certainly was a stunning looking piece of kit.
During a short chat with Marcus, he said he cannot see how we work without tiltrotators, and finds it hard to understand why so many in the UK can't seem to grasp the concept. He also said on a recent trip to America he hardly saw any out there either, but as I explained, end users in other countries are slowly beginning to realise that these attachments really can improve the way you work and approach jobs.
It was then time to head up country to Stromsund, to visit Engcon's manufacturing facility, which was around an hour's drive away, but there was still a chance for another site visit on route, as Nils took us to see another Engcon tiltrotator fitted to a Volvo EC290BLC, in action on the main road north.
This job involved the digging out of a section of road which had concrete drainage pipes led under it linking the ditches on either side of the road. During the harsh winter months in Sweden, temperatures can drop to as low as -40oC and in this section of road, the pipes which were full of water, had frozen and expanded causing the road to crack and break up. This is a common occurrence and during the summer months many repairs like this take place.
In part two, I will continue with our look around the Engcon factory and talk about the company's latest developments and attachments.