This shot from 1966, shows a Caterpillar 631A motor scraper at work during the construction of the M1 motorway near Wakefield in Yorkshire. One of Caterpillars most popular models the 631A was first introduced in 1960 and has been continuously upgraded up to the current G series today. This early A series machine was essentially the old DW21 cable controlled scraper unit coupled to the all new 631A traction unit.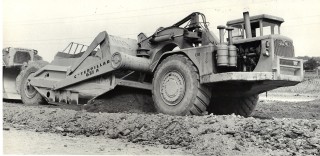 Next up is a mighty Caterpillar 657 twin engine scraper, being ably assisted in the cut by two Cat D9 tractors set up for push loading.
Moving on to Euclid/Terex products now. In this shot we see two Euclid S-7 scrapers, which feature greatly built up "greedy boards" to increase the machines bowl capacity. Production of this popular model started in 1954 and continued until 1970. The models in this photo are seen topsoiling at a clay pit in Whittlesey, Cambridgeshire around 1967.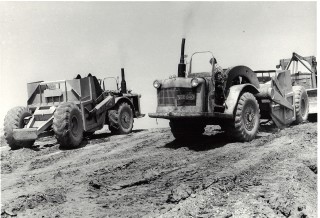 The 14 cubic yard Euclid TS-14 was a firm favourite in coal mines, where they were used to form massive stockpiles of the black stuff. This one which bears the logo of world famous dealership Blackwood Hodge is seen working at the Manvers Main Coking plant in the late 1960's.

Another example of a TS-14 in action here. This time sporting the Terex name, this would date it as post 1968. It is seen at work grading off a colliery tip somewhere in Nottinghamshire.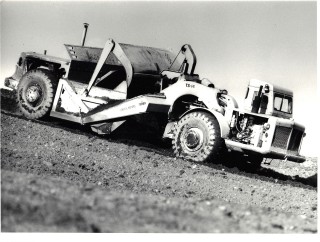 This John Deere JD860A elevating scraper model of 15 cubic yard capacity was first launched at the Conexpo show in 1969. The John Deere construction range was aggressively marketed in the UK in the mid 70's and were often featured in the trade press of that era that I used to read. But I don't recall ever seeing one in the flesh myself.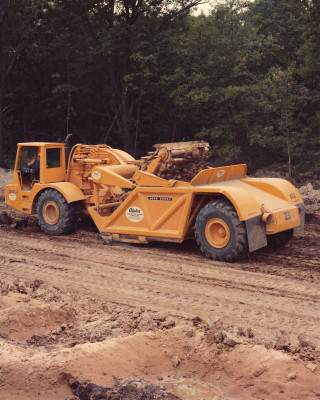 Another elevating scraper in action, now in the shape of this Wabco 333FT. This was the largest machine in Wabco's range at the time and indeed was the largest elevating model available from any manufacturer. This giant featured twin engines which offered a total power output of 900hp and boasted a 34 cubic yard bowl capacity.
Not much detail on this photo, but I believe these old scrapers were made by famous American shovel and crane manufacturer Koehring. My initial thought is that they are Koehring WH125 Wheeler models, at work somewhere in the UK for John Laing. It would be great to some feedback from readers who might know a bit more about these classic old machines.