There is no doubt in my mind that these systems are quite simply amazing, and although it often seems that from a UK perspective, I am banging my head against a brick wall, I will continue to promote the tiltrotator concept vigorously. I take my hat off to our Scandinavian friends, whose excavator technology and forward thinking approach make us in the UK look like a third world country. I am hopefully going to be able to experience their approach first hand with a visit to Sweden next month to see for myself first-hand and to report back for the Digger Blog.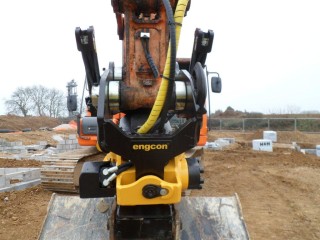 Last week once again the tiltrotator came into its own on a variety of jobs, with its ability to always be in the correct position with the roll of a thumb, I was deployed to construct scaffold margins around the house plots again and even on a simple task like that I found new ways to tackle the job thanks to the Engcon.
We have the stone brought to the machine in a Barford 10 ton forward tipping dumper, and I am able to rotate the bucket to "face shovel" the material into the bucket and then rotate the bucket back around to face me prior to placing the material on the ground, this not only speeds up the process but also avoids any spillage of material by trying to scoop it out conventionally.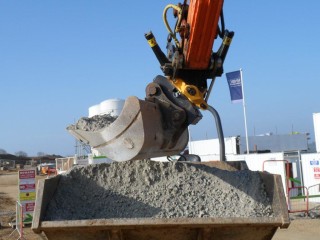 Tidying up around the plots is also enhanced with the use of the tiltrotator, and as I have said before the utilisation of these units is only limited by ones lack of imagination. Some people struggle to see the benefits, but I have noticed endless uses and ways these pieces of kit can improve site work.
It will feel like I have lost my right arm if this unit has to go back, like many things in life once you have had something that significantly improves the way you do things, it's always tough to go back to old fashioned ways. Yes these items are not cheap, but you have to look at the bigger and long term picture, as a machine owner myself, if I had regular long term work for my kit, I would not even hesitate to go for a tiltrotator, and I am sure any owner/operator in their right mind would want one. With so many possibilities and an array of specialist attachments, they are guaranteed to keep you on hire for a very long time.