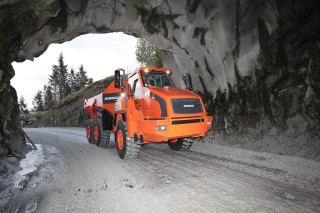 Doosan ADTs have an articulation hinge behind the turning ring to provide equal weight distribution and keep full contact between the tyres and the road surface. The trucks also have an flexible undercarriage with a free-swinging rear tandem bogie that further guarantees permanent 6-wheel drive for equal power distribution. The sloping body design also enhances the stability of the trucks, the designers say, because it lowers the centre of gravity. It allows makes tipping quicker and easier.
The combination of the forward turning point, the unique tandem bogie and the sloping rear frame does away with the need for electronic aids such as traction control, Doosan says.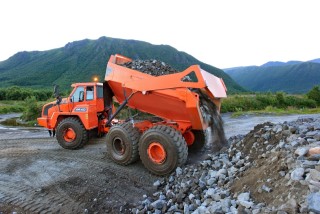 There's also a levelling meter now, developed in-house. This uses rotation sensors on the front and body of the truck to give a continuous stream of data that is converted into graphical readouts on the control panel, telling the driver to stop if there is a danger of turning the truck over.

Other safety features being added by Doosan are Lexan headlight guards and the option of speed limiting to prevent the trucks being driven over whatever the custoemr considers a safe maximum.
Another addition is a payload and cycle-count meter for the DA30 and DA40 ADTs. Data from load sensors is displayed on the cab's control monitor to show payload with an accuracy of +/-5%. The load is registered and counted in the vehicle control unit if the weighing value is at least three tonnes. To avoid more than one registration per load, the next registration is not possible before the vehicle has travelled more than 50m or after a timeout of three minutes. The data can be downloaded to a USB memory stick or sent as an attachment by GPS. It is in Wordpad format and can be identified and tracked by assigning it with a unit serial number.