The machine I have just inherited is a 2009 model and currently has 3,389 hours on the meter, and it was manufactured at Doosans European facility in Belgium. The machine has an operating weight of 14000kgs and is powered by Doosans own DL06 six cylinder engine which produces 71kw/95hp at 1850 RPM.
As mentioned previously, the last time I operated an example of the old Daewoo product was back in 1998 when I spent some time on a 130 Solar- IV model, which was very difficult to grade with. During my time as a machinery forum dweller, before I took on the role here on the Digger Blog, I spoke of this problem and was promptly chastised by the brand supporters and local dealership alike. As far as I am concerned constructive criticism is a good thing and should be taken on board by manufacturers and acted on appropriately. Having heard good reports about the newer Doosan DX range I was very excited to see just how far these machines have evolved.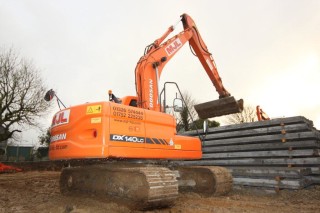 Having concluded my routine daily fluid level checks and visual walk around, I climbed into the cab of the DX140LC. My initial thoughts were that it was a very spacious cab, with excellent all round visibility and all the refinements one would expect from a modern excavator. I turned the key and the six cylinder engine burst into life. The DX140LC is one of the only machines on the market in this weight class bracket to be fitted with a six cylinder engine, and I was amazed at how quiet the machine was during warm up.
My first task on Monday morning was to load muck away lorries, which was great as it gave me the chance to get the feel of the machine for the first hour or so. I was impressed with the machines speed and power even when using it in standard working mode. The controls are very light to the touch, almost to light for my liking when compared to some machines on the market, but one gets used to it after a while. The full colour monitor to the front right of the cab gives the operator feedback on all the essential fluid levels and temperatures and, I believe on later models, doubles up as a rear view camera screen which is rapidly becoming the industry standard nowadays.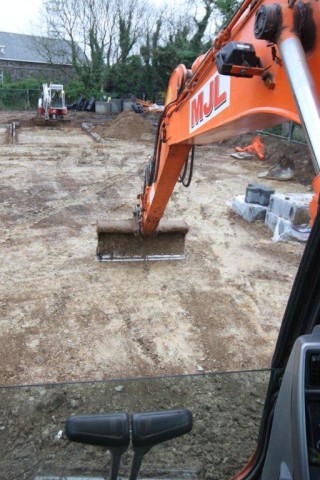 After a morning on the muck heap I was asked to come down and dig a footing, as the foreman wanted to see if I was any good or not! This comment brought a wry smile to my face as I climbed down off the heap and set myself up to dig the first trench. The ground in Delabole in Cornwall, couldn't be more different than in Bideford North Devon where I had been working. Up there we were having to use a breaker to peck out the footings before digging, but in Delabole the ground is very soft and crumbly which meant for easy digging, but also meant a lot of fall in from the sides, especially when the rain arrived. Needless to say the footing was despatched and the machine and hopefully the driver, coped admirably.

One little feature in the cab I find very useful is the remote radio controls, which are located on the console just to the left of the right hand joystick, so much easier to just reach forward to switch of the sound system when you need to be in contact with ground crew or listening to the beep of the laser level when reducing levels or digging footings. It really is a nice touch and much better than trying to be a contortionist reaching behind you or up towards the roof of the cab on some manufacturers machines.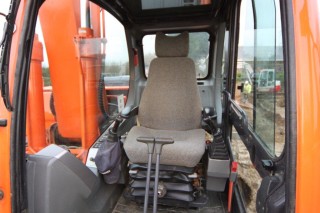 This machine appears to have had a bit of a hard life, with a number of "battle scars" covered up with paint especially around the lower counterweight, something I find especially frustrating as I do have a reputation for keeping immaculate machines whether they are my own or other peoples.
But I will do my best to work my magic and get this girl tidied up as the weeks go by. It's always amazing what a bit of TLC can do for a machine, one of my first tasks has been to try to remove all the concrete splats that seem to be all over the front and even along the cab door.
In summary, I have to say these DX models are a great improvement and indeed this machine is proving to be a delight to operate. The Koreans have obviously put a lot of effort and investment into making a world class product that has a large customer base.
We currently don't have much to do with Doosan here on the Digger Blog, but hopefully over the coming years we will be in a better position to test drive new models, especially at the 2013 Plantworx show where we will be active media partners.