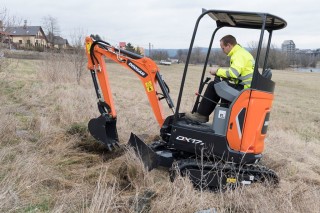 The Doosan DX17Z is described as a zero house swing mini-excavator, or ZHS, offering easy transportability and even more functionality than a zero tail swing (ZTS) mini-excavator, in that ZHS fully protects the front upper structure corners within the swing circle as well as the tail. As a result, ZHS functionality provides 320° of free rotation while working close to any object.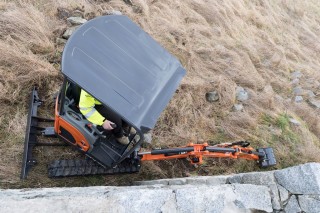 Doosan says that the DX17Z is best-in-class compared to other ZTS machines on the market as it is based on:
• A retractable undercarriage – when fully retracted, the undercarriage allows the excavator to go through narrow spaces; and when fully expanded, it provides optimum stability for the excavator − especially when working over the side. Expansion and retraction are simple and easy via an electric switch on the control panel.
• Long dozer blade (optional) – as well as helping to perform dustpan operations, the optional long dozer blade also improves front stability, enabling the operator to make full use of the breakout forces.

Stability is optimised by expanding the retractable undercarriage and using the long dozer blade.
The DX17Z is also offered with an optional certified 'object handling device', which consists of a boom load holding valve, an arm load holding valve, a hooking device and an overload warning device.
The DX17Z has a standard operating weight of 1749 kg and a maximum digging depth of 2249 mm. With a transport weight of less than 1.65 tonne, the DX17Z is towable on trailers for 2200 kg of total weight. Upper-structure tie-down points aid transportability. An automatic slew brake also helps here.