The first unit in Europe has already been shipped to a customer in Finland.
Multi-stage filters and features such as track guards and cylinder guards for the boom and arm, the auto grease system and greased and sealed track links are designed to ensure reliability and a long service life, Doosan says.
The DX800LC-7 excavator is powered by the new Stage V version of the Perkins 2506J diesel engine, providing a power output of 403 kW (548 HP), more than any other machine in this class, Doosan says. The engine meets Stage V emission regulations by using exhaust gas recirculation, selective catalyst reduction, diesel oxidation catalyst and diesel particulate filter (DPF) after-treatment technologies. The DPF self-regenerates every 25 hours without affecting performance. The status of the DPF is display on the gauge panel in the cab.
A virtual bleed-off (VBO) hydraulic system (which Doosan calls D-ECOPOWER+) provides a hydraulic flow of 1008 litres/min and a system pressure of 343 bar.
The D-ECOPOWER+ technology uses an electronic pressure-controlled pump in a closed centre hydraulic system to optimise productivity and fuel consumption according to the mode selected. A closed centred main control valve minimises pressure loss, while the electric pressure-controlled pump manages and optimises engine power.
Software is used to reproduce the benefits of an open centre hydraulic system with, it is claimed, little energy loss.
The operator can choose between boom or swing operating modes, to suit the application.
Faster working speeds are achieved with the two-spool Boom Down Regeneration system, which also reduces fuel consumption. The two-spool hydraulic system for the bucket cylinder also increases hydraulic flow and the working speed of the bucket. The DX800LC-7 also has a boom/arm cylinder lock valve (anti-hose burst valve), preventing accidents caused by hydraulic hose rupture.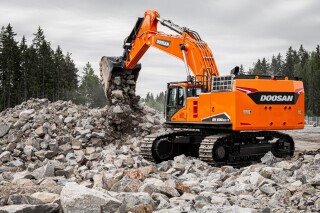 Doosan is also proud of the cab comfort it is offering in this 80-tonner, claiming more features as standard than other machine on the market. These include:
Eight-inch touch-screen LCD panel
Stereo system integrated in the panel (with Bluetooth streaming)
Keyless start system
Improved air conditioning/defrost performance
Heated seat
360o cameras (one at the front, one at each side and one at the rear)
Full LED lights pack
Side protection and 520mm-wide catwalks
The heavy-duty front end has five different front combinations based on 6.6-metre short and 7.7-metre long booms. The counterweight design has been changed to include a more durable horizontal mounting system.
The DX800LC-7 also has an electric fuel transfer pump (ETP) as standard, to start refueling at the press of a switch. With the ETP, the operator can simply press a switch to start refuelling the machine, saving time and effort in maintenance work. The width of the catwalks on the DX800LC-7 have also been increased by 20% to 520 mm, providing more space for maintenance and to help prevent accidents.
Brief specifications for the Doosan DX800LC-7 excavator
Operating weight
79.5 tonne
Bucket capacity
4.6 m3
Digging depth with 7.7 m boom and 2.9 m arm
7725 mm
Digging reach
12672 mm
Digging height
11910 mm
Overall width (with 600 mm shoes)
extended 4000 mm
Height
4690 mm
Overall length in travel position
13370 mm
Tail swing radius
4010 mm
Digging force over bucket (ISO)
37.6 tonne
Digging force over arm (ISO)
33.5 tonne
Travel speed
low range - 2.9 km/h
high range - 4.8 km/h
Engine (SAE J1995 net)
6-cylinder Perkins 2506J Stage V,
403 kW (548 HP) at 1800 RPM