The contractor, based at Burry Port in Carmarthenshire, bought the 52-tonne machines from Mason Brothers, its local Doosan Heavy dealer.
Hy Impact Breaking mounts large attachments on them, such as Fractum impact breakers and hydraulic breakers. It uses these to recycle steel slag and scrap in the steel industry and crushing reinforced concrete in the demolition industry.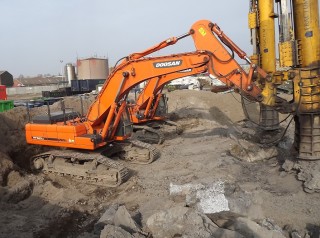 Tony Richardson, owner of Hy Impact Breaking, says: "I worked closely with Hywel Mason at Mason Brothers to choose the right Doosan machine to meet our specification. The Doosan DX520LC excavator is an excellent all round machine that is not only a very reliable carrier for the Fractum breakers but also for the large hydraulic breakers and buckets we employ in the different areas of our work. The success of the Doosan DX520LC model as part of our fleet is demonstrated by our purchase of a fourth machine, making us the largest operator of this model in the UK."

Hy Impact Breaking claims to be the only company in the UK to offer the Fractum impact breaker and, with four Fractum 200 units in operation, says it has the largest fleet in the world. The Fractum impact breaker is manufactured by Fractum ApS, based at Hedenstad in Denmark.
Tony Richardson continues: "We can provide much more precision and productivity than drop balls with the Fractum 200 breakers, which have an impact energy of 200,000 J compared to that of 16,000 J typically for the largest hydraulic breakers. We tend to work on pieces of material that weigh from 8 to 15 tonnes and have to break them down into much smaller pieces weighing up to 1 tonne that are suitable for feeding a furnace where they are melted down and recycled. Sometimes we have to go even further – for some materials, we have to produce fragments that are the size of a lorry battery for the furnaces."
Depending on what model is used, Fractum breakers can crush boulders of more than 150 tonnes and with Fractum technology the harder the rock, the easier it is to break it, Richardson says.