Weighing in at a little over a tonne – 1176 kg, it has a maximum digging depth of 1.82 metres and when everything is retracted it is just 710 mm wide, allowing it to get through most doorways.
To make access to site even easier, a foldable TOPS (Tip Over Protective Structure) canopy comes as standard.
The integral sliding blade extensions eliminate loose parts that require storage space and can be easily lost. The blade extensions can simply be slid into their inner position to reduce the overall width.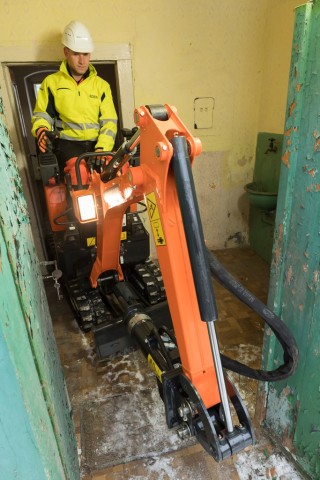 Also notable, says Doosan, is the position of the joystick controls on the DX10Z. They can be adjusted to suit operator preference. Both left and right consoles, which serve as arm rests, need to be lowered and locked to operate the machine.
The hydraulically expandable undercarriage provides the DX10Z with a square footprint of 1100 mm when extended, giving it one of the wider stances in the mini-excavator segment.
Metal covers and a large cast counterweight provide corner protection and extra durability.
The workgroup of the DX10Z excavator features a cylinder-over-boom design, to protect the cylinder from damage. The hoses for the auxiliary hydraulics are routed inside the boom, also for protection.
There is a single access point for daily maintenance of the main components, checking the fuel gauge and refuelling.
The DX10Z is powered by the familar Kubota D722 engine, offering low vibration and noise levels.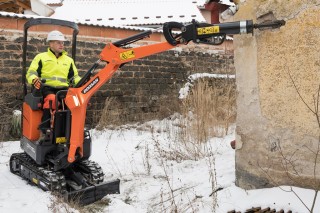 Indoor demolition projects are a particular target market for this machine. As the cooling system is critical when working in spatially restricted areas where air flow may be minimal, Doosan's demolition kit provides extra cooling to allow a breaker attachment to be used frequently, even in warm environments. Doosan says no other manufacturer offers this.
Brief specifications for the Doosan DX10Z mini-excavator
Operating weight

1176 kg

Digging depth (std front)

1820 mm

Digging reach (std front)

3093 mm

Dump height (std front)

1818 mm

Width (retracted/expanded undercarriage)

710/1100 mm

Height (std front)

2209 mm

Overall length in travel position (std front)

2793 mm

Digging force over bucket (ISO)

8.3 kN

Digging force over arm (ISO)

5.6 kN

Travel speed

low range – 2.1 km/h
high range – 3.1 km/h

Engine (ISO 9249)

Kubota D722
7.4 kW (9.9 HP) at 2000 rpm