Volvo Construction Equipment is working with partners including the Danish Technology Institute and civil engineering contractor Per Aarsleff to test sustainable construction solutions in a real-life environment.
The Green Construction Site of the Future project is in Mindet, near the Port of Aarhus, where construction on what will be the country's tallest office building and new public urban spaces is taking place.
Insights gained through the initiative are helping build knowledge and a better understanding of how these solutions can be implemented at scale in the future, they say.
Real-time air quality and noise monitoring were carried out to provide insights into the benefits of introducing electric, hybrid and biofuel (HVO) construction machines over conventional equipment.
The Volvo EC230 Electric was deployed on site in December 2022 excavating the centre of the construction site ready for building. Both slow overnight charging and fast charging during breaks was deployed at the building site. In this way the charging pattern and load on grid was monitored in real time, providing data for further investigation on how to secure enough power for further electrification.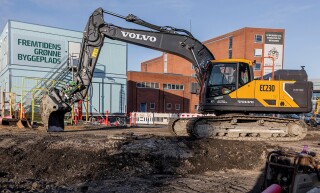 Lars Overgaard from Danish Technological Institute is senior project manager for the initiative. He said: "There is insufficient documentation on the actual effect of different sustainable solutions. In this project, we document the effect specific initiatives have on reducing environmental impact- in particular reduction in noise, CO2, and other emissions, including different options for green energy supply.
"Electrification of non-road vehicles has great potential, but there are also obstacles. Ultimately, we convert data to insights and thereby assist the construction industry in accelerating the green transition."
Lars Dithmer, Aarsleff's head of sustainability, , said: "The construction industry is on a journey of transformation. Reducing carbon footprint is a challenge, however by adapting fossil free processes and machinery and sourcing sustainable materials we can future proof our company and lead by example in this green transition. The knowledge obtained from projects like that at Mindet will provide valuable information on where we need to focus, invest and to change our habits –to succeed we need to make sustainability a priority across the entire value chain."