Nothing official has been announced by Komatsu as yet, but it appears that the 1,150 hp/860kw D575A-3 Super Dozer has been discontinued from the product range, having been in Komatsu's product portfolio since it was first introduced in 1991. The machine was a massive dozer capable of moving 125 cubic yards (96m3) of material in one pass!
General consensus is that it is no longer a viable product to include in the company's range, with only one 575 sold for every twenty 475's. However with large scale mining operations in the United States, Canada and Australia still very prominent, one would think there must still be a market for a large "mega dozer".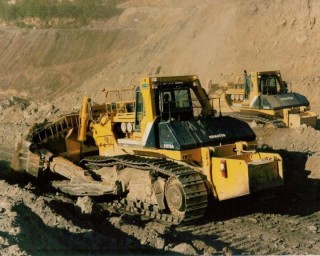 Not many of us will have been lucky enough to have seen a Komatsu D575 in action in the flesh, but check out this video which features 2 of them in an awesome display of dozing capability in New Zealand.

With Caterpillars recent massive input into the mining sector, could this now be the time to introduce the much talked about D12 track type tractor to their range. I guess only time will tell.