Bauma 2013 sees the debut to the Cat 336E H hybrid excavator, which was launched in the USA last year. Energy is stored and reused via the hydraulic hybrid swing system, which captures the excavator's upper structure swing brake energy in accumulators and then releases the energy during swing acceleration. Cat says that the 336E H needs up to 25% less fuel than the standard 336D and up to 33% less fuel than the 330/336D.
Cat is also introducing four mini excavators – the 302.2D, 302.4D and the compact radius 301.7D and 308E2 – as well as the 444F equal size tyre (EST) backhoe and the D6K2 track-type tractor. Other newer models include the 988K and 966K XE wheeled loaders and the Cat D7E electric drive tractor.
The recently introduced 318E hydraulic excavator and M313D wheeled excavator, the 120M2 AWD motor grader as well as the 91-tonne capacity 777G off-highway truck will be on show. Sure to catch the eye is the all-new 6020B hydraulic mining shovel, designed to work with the 777G truck. With a 220-tonne operating weight and a 20-tonne payload, the 6020B is the largest Cat machine on display.

Caterpillar Paving Products will also launch three new products: the AP300D paver and two utility compactors, the CB24B and the CB34B. The AP300D has a hydrostatic propel system and adjustable paving widths of 1.7m to 3.2m, or 4m with bolt-on extensions.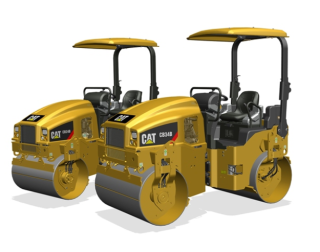 Doug Oberhelman, Chairman & CEO for Caterpillar talks about some of the highlights in store for visitors at Bauma 2013.