I was invited by Jake Wright, who is Finning's Territory Sales Manager (Equipment Solutions) for Leicestershire and Northamptonshire, who told me more about the sales regions who were being represented at this event. It covers a large area from the Scottish Borders to the Lancashire Borders and down South to Norfolk and the Peterborough areas.
A total of 8 Finning salesmen are responsible for this area, covering industries from plant hire, construction, landscaping, earthmoving, mining & quarrying and waste and recycling, selling a full range of products. They work out of five main branches, which are Boldon, Leeds, Peterborough, Chesterfield and Leicester. As well as sales, these depots offer servicing and parts. In addition to the sales team, the region also employs an impressive 64 field service engineers, 45 workshop based engineers, 25 apprentices, and 5 hose specialists. The depots have a collective 32 workshop bays and 5 parts counters which offer 98% availability of parts for next day delivery, with a group stock parts value of £11.1 million.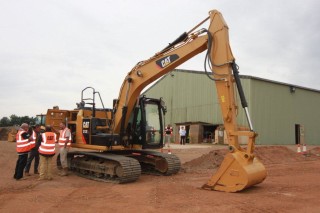 Access to the Caterpillar Desford visitor centre facility gives the various Finning sales regions a great opportunity to get their customers in to try out the latest Cat machines for themselves, in a close to real life environment, and this latest one saw a number of high profile customers visiting who were in the market for various models from the Cat range.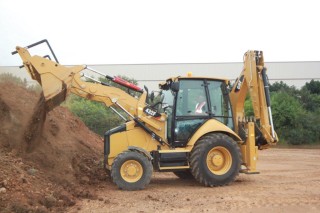 As ever, I was early and took the opportunity to pop outside for a bit of free stick time, my guide for the day was Karl Charlton, who is the heavy construction machinery sales manager for Derbyshire, Nottinghamshire and Lincolnshire. First up for me was the 432F backhoe loader, which we reported on earlier in the year. I am not the biggest fan of backhoe loaders in general, having started out on them back in the late 70's. Once I moved onto the tracked 360o machines I never looked back, however the backhoe loaders have come a long way since those days, and this machine with its pilot controls was a pure delight to operate.
I also spent some time using the front bucket in a simulated load and run operation. I found the visibility to the front bucket to be excellent in this machine, something I often struggle with on backhoe loaders.
Next up I was back in my comfort zone with a quick spin on the latest 312E. Having operated this machine at Desford earlier in the year and the larger 329E in Malaga last year, I knew what to expect, the 312E is a nice bit of kit with plenty of power and smooth hydraulics, I could definitely see myself spending a few shifts in one of these. Hopefully a Cat 320E will be heading to my site shortly for a full on test drive in the real world environment, something which I am really looking forward too!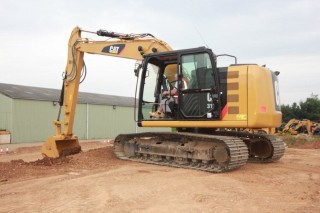 Overhearing some of the customers talking to the sales managers, there is still much discussion about the perceived big back end on these machines. To be perfectly honest I don't see the problem with them, as there are plenty of mirrors fitted and the rear view camera is excellent, in addition there is the option to fit two more additional cameras. I have to say in all the years I have been operating machines, I have rarely felt it necessary to look out of the rear window, I use my mirrors and when I have one fitted, the camera. It's like the fitting of those fish eye mirrors above the rear counterweight that used to be insisted upon, unless you had a neck like an owl, it was impossible to see them, I for one am happy to see the back of those as they were often an added hindrance especially when working in amongst scaffolding on housing sites.
My final spell of stick time took place within the indoor part of the demo ground as the predicted bad weather threatened to spoil the party. I took to the controls of the 301.4C, Caterpillars current 1.5 ton offering which features a Yanmar 17.7hp (13.2kw) engine and expanding tracks. In operation this machine did everything I asked of it effortlessly.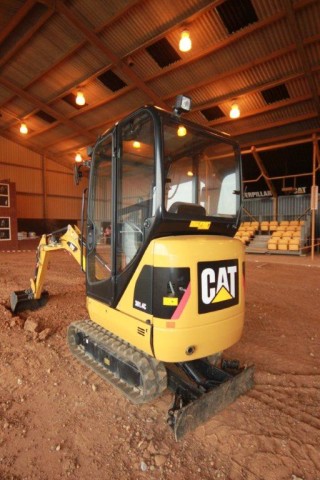 I could see this Wacker Neuson based machine appealing to the plant hire and self drive market, as it is a basic machine with no frills or masses of electronics in the cab. A rugged little machine that will be more than capable of standing up to the abuse from some of those not so caring "operator's" out there.
Customer days are a regular event for Finning and the various Cat compact dealerships, if this is of interest to you why not contact your local sales manager about a visit.