On July 27th I put out a tweet which read "Any plant & machinery manufacturers or hire firms displaying kit with an Olympic theme? If so we want to post them on the digger blog." Well it looks like Finning have taken up the baton with a stunning display of Cat equipment which features some very patriotic Union Jack Livery.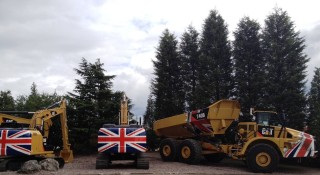 The display which is currently adorning the entrance to Finning UK's Cannock headquarters, features a couple of the latest E Series excavators and a top of the range 740B articulated hauler in a gold medal celebration dedicated to our Great British Olympic athletes.

With another week to go there is still time to show us your support for team GB here on the Digger Blog.