Established in 1964 by proprietor Ewen Bowman as a haulage company specialising in livestock and animal feed movements, the company evolved into a waste recycling and skip hire business as the numbers of cattle being raised in the Highlands began to fall. Now the family run business employing around 24 personnel is fully focussed on waste recycling, skip hire and landfill operating a fleet of 12 skip and roll on – roll off vehicles.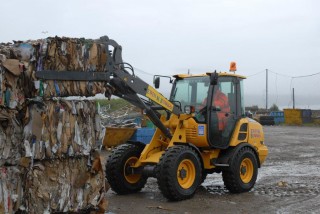 With waste handling contracts in place with private and local authorities Ewen M Bowman is further enhancing its recycling capabilities with the imminent commissioning of a bespoke picking station at its Duisky facility. Part of this investment has included the purchase of a dedicated loading shovel to feed the station and then rehandle the sorted material for baling and onward disposal at larger material recycling facilities in the Central Belt of Scotland. Literally purchased on specification from a cursory perusal of the Volvo CE website, Mr Bowman was taken with the design and technical details of the Volvo L25F compact loading shovel. "The machine is just what we need for this new operation in terms of its size, bucket capacity and manoeuvrability, not to mention superb visibility for the operator," he commented.
The L25F, featuring the patented Volvo TP loader linkage has been equipped with foam filled tyres to avoid punctures on site; a Strimech 0.9m³ waste handling bucket with hydraulic top clamp and a Knaup rotating fork clamp with a carrying capacity of 1900kgs. Both the bucket and rotating clamp can be interchanged quickly thanks to the machine's hydraulic attachment bracket.

The machine has also been fitted with an additional 4th hydraulic line to operate the clamp rotator and the hydraulically operated forks. Powered by a Volvo 3.6 litre oil/air cooled engine developing 58.6hp, the L25F has a fully hydrostatic transmission and a maximum torque of 190Nm is achieved at just 1700rpm. The machine has two speed ranges with a maximum top speed of 20kph - more than adequate for its duties around the Duisky recycling site.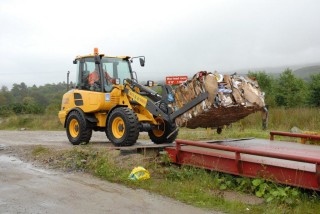 The standard full turn tipping load of 3800kg has been enhanced with the additional weight of the foam filled tyres and in conjunction with the rotating fork clamp and bale weights of around one tonne, the L25F has proved to be an extremely stable machine. It provides plenty of forward reach as well for loading bales onto 40' trailers. The engine, transmission and hydraulic pumps are mounted transversely at the rear of the machine which acts as a 'live' counterweight and all components for servicing and maintenance are easily accessed.
The new L25F is Ewen M Bowman's first Volvo machine and joins a mixed fleet of excavators, larger shovels and landfill compacting machines. The company is based on the outskirts of Fort William and services the length and breadth of the Scottish Highlands.