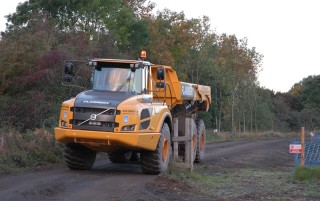 P Flannery Plant Hire has supplied approximately 100 items of general heavy plant to the project, which considering it is based in Wembley and its most northerly depot is in Cheshire, strikes me as pretty good going.
Among the equipment supplied by Flannery is a pair of new Volvo A25F articulated haulers.
With a carrying capacity of 24 tonnes and heaped capacity of 15m³ the Volvo A25F has a maximum speed of 53kph. Flannery's trucks have the optional cantilever tailgates fitted for maximum load retention. They are also fitted with CareTrack as standard, which is Volvo's telematics system that enables remote monitoring of a wide range of machine functions, such as location, fuel consumption and service reminders.
Flannery likes its Volvo trucks. It bought half a dozen D series ones four years ago and the performance of those has informed its latest purchasing decision.

"We hire our equipment to major civil engineering consortiums and large contractors nationwide so it's imperative the products we purchase are productive and reliable," says joint director Martin Flannery.
"The six Volvo A25s we originally purchased with low hours on them have proved their worth time and time again in terms of reliability, performance and most importantly client acceptance so as we needed to add to the fleet it made perfect sense to opt for the latest trucks from Volvo," he adds.