Palma Contracting Co Inc., was a family run excavation and contracting business which operated in the New York City area from the 1920's to the mid 1970's. During this time the company was heavily involved in excavation works for local builders of one and two storey attached and semi attached homes, apartments and light industrial buildings.
The company was originally founded by Michaels grandfather, who had emigrated from Italy to America in the early 1900's. The business was then successfully managed by Michael's father until he passed away in 1970, at which time Michael took over the seat for a further 5 years. Michael described the business as being very well known and successful in its niche market, but pretty straight forward in its operation.
From the early 1950's, the company exclusively ran International Harvester equipment, primarily being track shovels and dozers, which back in those days were often the primary tools of choice for muckshifting and digging operations. In this shot taken around 1953, we see an International TD14A in action in the famous Bronx area.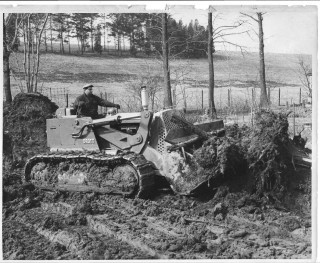 Working in conjunction with the tracked shovels were a fleet of Mack tipping trucks, which were used to transport away the excavated materials.
I believe the company was also involved in some aspects of road building too, as this photo shows one of the company's International TD14A dozers at work in New York during construction of the Cross Bronx Expressway in 1952.

The company also had its own machinery transport which in the 1950's was an Autocar single axle tractor unit and lowboy trailer, which can be seen in the background of this shot having delivered this Cat D6 dozer to a site.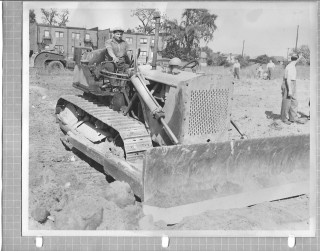 One very interesting note about the company's history, is the fact that in 1961, they excavated for the American Museum of Immigration, which is located at the base of the Statue of Liberty in New York.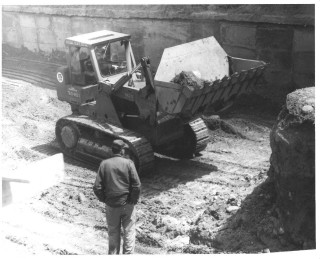 I would like to thank Michael Palma for sending in these classic photos, which I am sure you will agree are simply stunning!