In 1987 Steve moved on to work for Holt JCB, the local JCB dealership, initially working as part of the agricultural team. After some time Steve was approached to take on the running of the used equipment branch of the business, which he successfully did until 2002.
Steve had taken to selling used equipment like a duck to water and saw a great opportunity to start up his own used equipment company and so on 5th August 2002 SPK Equipment Sales started trading.
Steve has always been a keen user of the internet to promote his business and the company export machines all over the world as a result of the exposure they receive from the website; this forward thinking initiative has helped them to achieve overseas sales of up to 80%. Steve said, "The message here is that the internet is without doubt the way to go these days and any business that doesn't embrace the World Wide Web does so at its peril."
SPK also have a fleet of support vans which carry an extensive range of tools and equipment to facilitate any on site repairs and after sales service which may be requested by SPK's customers.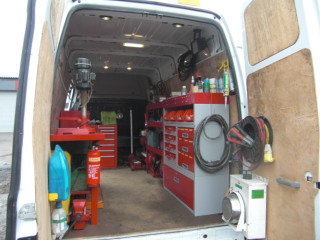 SPK have a comprehensive workshop facility which includes a dedicated paint spraying booth, where the used machines can be fully reconditioned to the customer's satisfaction. All equipment is put through the workshop on arrival at the yard for a full inspection and any repairs that maybe needed are attended to.
During the Digger blogs visit, we were shown this Caterpillar TH360B telehandler, which was being prepared in the paint shop, next week this machine will be on its way to a building company in Sweden.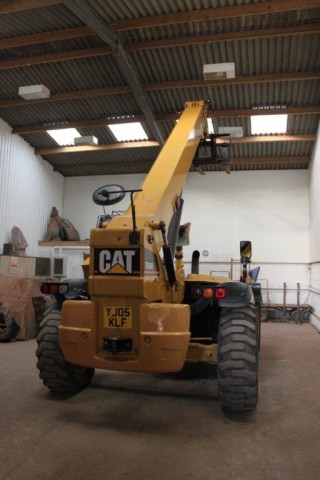 Out in the yard area, this 2009 model JCB JS220LC is awaiting despatch to a customer in Poland, where it will take its place on their plant hire fleet.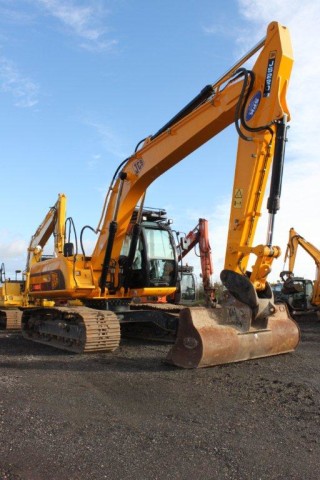 Steve can also source new and unused equipment if requested, like this Hitachi Zaxis 35U mini excavator which was one of a batch of 2009 model machines which can offer potential customers big savings due to the date shown on the plate. This particular one is off to one of SPK's regular customers in Holland next week.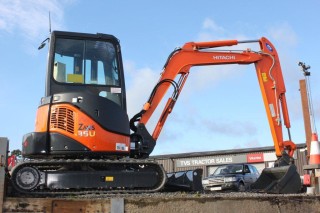 Talking of new and unused machines, there are also a couple of Hanix H15B Plus-2 machines which are both 2010 models. These 1.5 ton mini excavators feature a full cab, extending under carriage and hammer lines.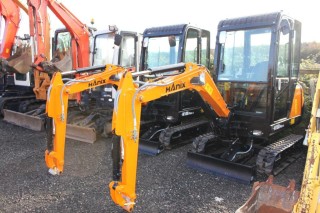 Two customers arrived at the yard during my visit, one had driven down from Northampton to pick up a used Kubota KX36-3 1.5 ton mini excavator and said he was delighted with his purchase.
The other customer was a leading East Devon contractor who had come down to take a look at this Komatsu PC138-8. The machine is a 2008 model with just 1,980 hours on the meter, the machine looks in excellent condition and is fitted with 2/way hammer lines, boom check valves and hydraulic quick coupler.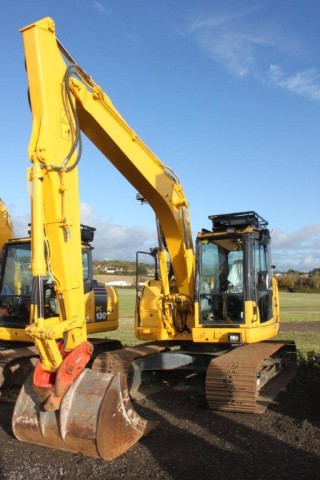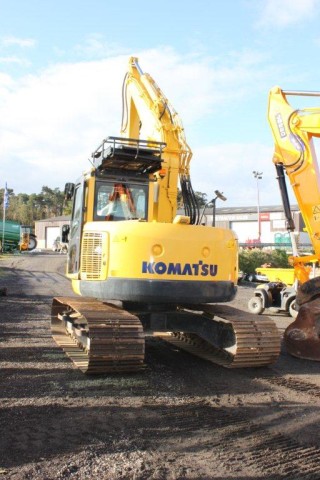 The customer was impressed too and a deal was done on the day!
Also available in the yard were a large selection of dumpers and a trio of telehandlers from the Terex, Manitou and Caterpillar stables.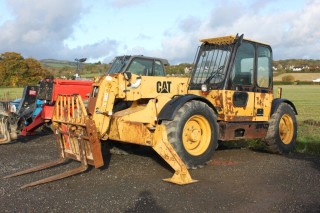 One other item of plant of particular interest was this old Kubota KH-31 mini excavator which must now be heading for "classic" status. The machine is being stored at SPK's yard for one of their customers and for its age is in fantastic condition, let's hope it stays that way for many years to come.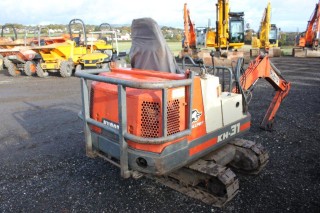 Steve is also a big rugby enthusiast and SPK are proud corporate sponsors of the Exeter Chiefs rugby team. Steve said "We are very pleased to support the team in any way we can, we do our bit and occasionally supply machines for use in and around the ground"
Like so many of us in the plant game Steve is passionate about the subject and it was great to "have the crack" with him during our visit.
We would like to thank Steve for the hospitality shown to us on the day.