Robert had seen photos of footings I have worked on here in the UK, and commented that our approach of simply digging a trench in the ground and filling it with concrete seems to be rather old fashioned, pointing out that we rarely use any insulation materials in the ground. Of course the climate is very different in Sweden with winter temperatures often dropping to -300, one would expect that a different approach would indeed be necessary. This example, is a beam footing as Robert described it, in the UK we would probably described it as a ring beam footing. In this shot Robert is backfilling with his Volvo EC45, around concrete pillars that are set in 85cm x 85cm concrete pads that will support the beams.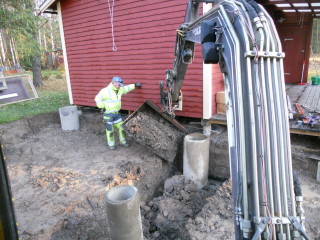 As the foundation dig progresses, the concrete pads are lifted into place using Roberts Volvo EC45.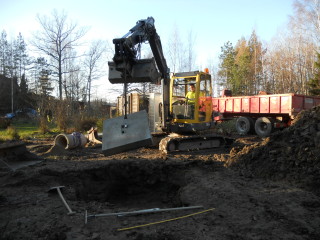 Once all the pads are in place with the tubes sticking out above ground level, they are filled with concrete in the traditional manner.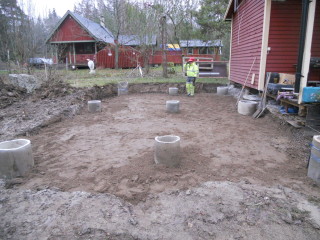 The concrete beams are then lifted in place by the machine. This is a tough job for the EC45, as each beam weighs around 950-1000kg. Robert explains that it is sometimes difficult to attain the necessary height when positioning the beams with such a small machine!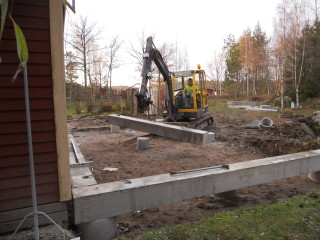 The outer beams are insulated with 100mm of expanded Styrofoam, which gives them a higher temperature and lower humidity below the wooden floors. In the extreme cold climate lower humidity helps to protect from dampness which of course can lead to incidents of mould. At this point all beams are in place except one, as this is where the water and sewer line will be excavated.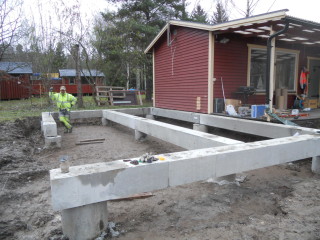 Excavation commences for the water and sewer lines, the depth is a necessary requirement in Sweden to protect the pipes from freezing during the severe winter conditions.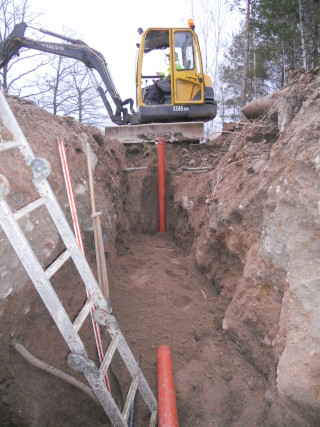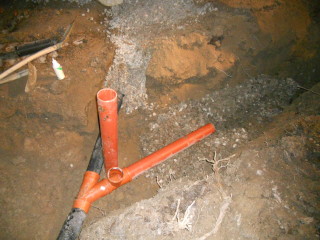 Robert explains that this is just a footing for a small summer cottage, but the same system is used for similar houses or villas. In Sweden the name for such a construction is a "Creep Footing", due to the fact that the space underneath the floor and the ground allows you to crawl underneath for inspection, or to complete underfloor repairs as and when this is needed.
The floors when fitted will be traditional Scandinavian wooden style using 45 x 220 planks and chipboard with a form of plastic mat on top, the walls for the building come in prefabricated and are fitted to the concrete beams in situ.
Robert completed this job by loading some rocks and boulders onto his tractor and trailer, which were to be taken home to fill in a low area behind one of his barns.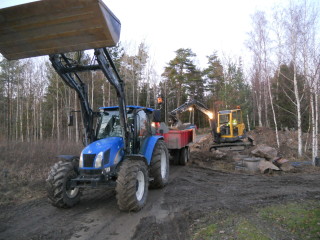 The Digger Blog would like to thank Robert for this interesting insight into how things are done in Sweden.