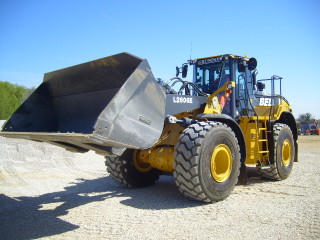 The business began in 1929 when Stephen Grundon bought a First World War era Pierce-Arrow truck, fitted it with hydraulic tipping gear and set up as an aggregate supplier. The family had a horse-drawn bus business in London but this was its first dalliance with the internal combustion engine.
Wikipedia tells me that the Pierce-Arrow Motor Car Company was an American manufacturer based in Buffalo, New York, and active from 1901 to 1938. In its latter years it was owned by the Studebaker Corporation. Although best known for its expensive luxury cars, Pierce-Arrow also made commercial trucks, fire trucks, camp trailers, motorcycles, and bicycles.
Stephen Grundon's business grew and spread over the years to become what is now the largest privately owned waste management company in the UK. It is still owned by the Grundon family, under the third generation and despite waste & recycling now being dominant, quarrying and aggregates remains an important part of the business.


Grundon Sand & Gravel has recently bought a new L2606E wheeled loader from Bell Equipment, pictured at the top here.
Aggregates manager Simon Dickens explains: "Fundamentally, I was in need of a new loading shovel for quarry use that would be suitable for aiding gravel processing and loading lorries. As we'd had positive experiences with Bell in the past, both in terms of machine capability and customer service, I didn't hesitate in returning to see what they could do for us this time."
Grundon's association with Bell dates back to 2010, when "the first Bell machine we brought onto site impressed the quarry team no end, with the strength of its engine, sound transmission, and trouble-free operation," says Simon Dickens. "Since then the vehicle has truly performed and rarely caused an issue. It has been fuel efficient and hassle-feel."
He adds: "We have also been satisfied with Bell Equipment's customer service, after feeling other suppliers in the market had become complacent. With Bell we feel assured that should an issue occur, the support team will get it resolved at speed – keeping our equipment moving, and productivity flowing.
"Concerning price scale, I'd say Bell holds a middle position. However, they certainly provide the right machines, contracts, and warranties for us – which makes the Bell L2606E loader the ideal solution for our quarry."
Bell Equipment UK sales manager Richard Higgott says of the L2606E: "This machine is a truly versatile piece of equipment, capable of performing effectively within a wide range of environments. Loading function has been a key priority for Grundon, and with this machine, they've got it covered, with on-board weighing as standard, and the addition of all round fenders to protect the machine from dirt during loading and carrying applications."