When I received notification that Kanga Loaders UK were following me, I was trying to think of my last encounter with the distinctive green and yellow skid steer machines from the land of sun and blue skies down under. Looking back through the Digger Blog archives, it appears that I last got close to one of these machines at the 2005 SED (Site Equipment Demonstration) in Milton Keynes, where the team were putting on a great display of their range of products.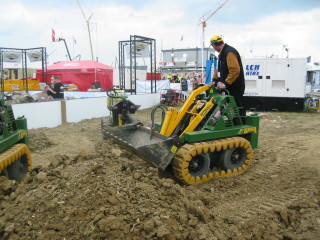 I also checked out Kanga loaders You Tube channel and came across this video, which incidentally caught the eye of "Mrs Digger", who is a professional equine consultant, and keen all round horse woman. I must say this Kanga TK216 "Kid" multi-purpose tracked skid steer loader would be a very useful addition to any equine yard.

Wouldn't mind getting hands on with one of these machines here at Digger Towers in the future. Watch this space folks.
Don't forget to follow us on Twitter for even more interactive material everyday as I tweet from my daily jobsite.