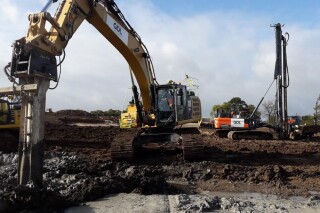 Ground Developments Ltd (GDL) operates a large plant fleet including excavators, dozers and heavy compaction equipment. While machine control hardware has provided precision, it says, the site managers are now using Trimble software to resource-plan weeks ahead to ensure they have the right type and amount of equipment at site when they need it.
Based in Whitburn in Scotland, GDL was an early adopter of machine technology and began equipping their dozers and excavators with Trimble GCS900 Grade Control Systems more than a decade ago. It is now a Beta tester for Trimble, trying out latest products in their earliest stages.
The software was supplied by Sitech UK & Ireland. Sitech regional sales consultant Liam Payne says that GDL was at the forefront of implementing new technology to tackle complex site designs and soil stabilisation work. Over the years, Sitech engineers have supported GDL's journey, installing and calibrating its growing inventory of hardware and maintaining the software to help achieve maximum efficiency.
"GDL have an unrivalled reputation for the work they do thanks to their design and site team," he says, "and Sitech are proud to be their technology partner and support them with the best-connected site solutions.
"Their grasp early on of the value of live site data and portfolio of site positioning and machine control hardware, combined with their skill at gaining the maximum advantage from the Trimble WorksOS and WorksManager software, not only gives their customers complete assurance but has undoubtedly given them a competitive advantage."

GDL technical director Julius Newman says that the speed of information to and from site is now essential, providing everyone involved with the projects with complete clarity of the what, where and when, based on live data.
He says: "Site management software and how we manage and use that data is key and has been the growth area for us. As an example, in 2020 we had one licence for WorksManager and now we have 25. An engineer running from site to site can't forecast what's needed when for the next task, but the software provides that data, and for me Trimble WorksManager really should become an industry standard."
GDL project director Wayne Barr explains: "We can look at running time, moving time, non-working time on our machinery for example, which meant last week at one site we were running one truck short, and we could see this was leading to four hours of standing time there.
"With another truck on site this time is reduced to 1.5 hours, and the beauty of the software is you can see the impact this has – you're operating on live factual information. It allows me to query a site manager about why two pieces of machinery doing the same job have different standing times for example and we can problem solve that, and that data then also allows us to forecast ahead accurately on project timings and plan in future work effectively and efficiently.
"There is an outlay to make a machine wi-fi enabled etc. and the software is paid for via an annual subscription, but we've seen that it is possible to recoup that outlay in just a week by having that ability to monitor our sites and run them more productively. The uplift in production this year is 10 or 15% since introducing the software systems to our site managers."